Jazz heals in the aftermath of Japan's tsunami
Ron Scott | 5/16/2013, 4:38 p.m.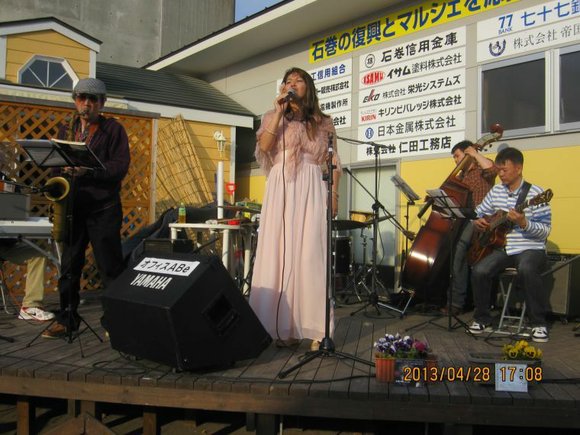 It's been three years since March 11, 2011, when the horrific jaws of a tsunami and earthquake swallowed up thousands of lives in Japan, causing over a billion dollars in property damage.
Upon revisiting the small fishermen city of Ishinomaki, it is plain to see the residents, city workers and volunteers are diligently working toward revitalization. Many displaced folks living in shelters are now in temporary housing facilities, where they can remain for two years, after which they will move, hopefully, into an apartment or a new house.
Some of the businesses that were destroyed or badly damaged have been refurbished and are open. A stylish T-shirt shop sells a shirt that says, "Never Give Up."
International singer-songwriter Okaru Lovelace, who resides in New York City, recently returned home to Japan to visit the devastated area of Ishinomaki City, where she originally performed as part of her "Music Heals" project for the Ginga Restaurant and Bar just months after the tsunami.
On this occasion, she was invited back to perform by Ginga's owner, Yuriko Oono. The sold-out show brought smiles to many faces and the songs (originals and standards) from her just-released CD, "Sakura, Home of My Heart," ignited active audience participation. "This CD is dedicated to Japan and the victims of the tsunami, and I wanted to bring the music to them first. This is healing music for them and their feeling better is my award."
On Lovelace's first visit to Ishinomaki, she was inspired to write the title cut, "Sakura." She wrote the song at Hiyoriyama Park. This was the hill where many people were saved by running to higher ground.
Ginga had to relocate a few blocks away, which doesn't offer the same busy thoroughfare of people they enjoyed. Loyal customers who were also victims of the tsunami still attend regularly. This new location is smaller and Lovelace was not able to have her original accompaniment, but her enticing vocal instrument prevailed.
A few days later, Lovelace was performing with the Ishinomaki Jazz Band--friends she sang with at the old Ginga--at an outdoor concert in the Ishinomaki City Temporary Recovery Market, which offers seating for its live stage shows.
This site was a lively residential and business area with restaurants and stores; the entire area was totally destroyed. Now, some of these businesses have returned and seem to be thriving in this temporary marketplace.
In the midst of it all is the Visitor's Center, which has become a popular tourist attraction--Ray Dorsey, an R&B singer with the Drifters, was a recent visitor--with its dramatic photo exhibit displaying cars and boats turned over in the streets just days after the disaster. The photos also document the community's progress as it works its way back to normalcy. This was Lovelace's primary goal for returning home--to perform for the victims of the tsunami and hopefully give them hope and raise their spirits through her music.
"Each time I return, these people are giving me power," she stated. "I am not giving to them. We are sharing through the music."