Jazz heals in the aftermath of Japan's tsunami
Ron Scott | 5/16/2013, 4:38 p.m.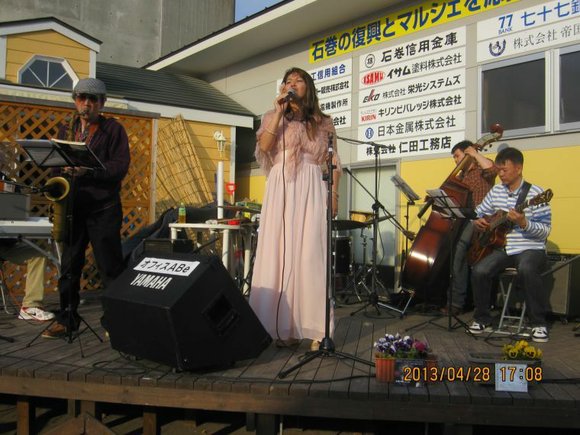 While Ishinomaki City has become a tourist attraction, with people coming from all over Japan to witness the terrible destruction, very few focus on Onagawa City, which had much more damage. The two cities are less than an hour's drive apart. Here we actually saw a two-story building upside down--the building was sitting on its roof. Now that is scary. How high and strong does a wave have to be to pull a building from its foundation and flip it over?
The desolate area of Onagawa now has a temporary housing complex, where Lovelace visited musician and friend Mr. Aoto. This site was originally a baseball field; the stands still remain.
The alto saxophone player and his wife lost everything, including his sax and record collection. He played with Lovelace on her last gig at Ginga. He can't practice because of the close quarters, but he is writing music and requested that Lovelace write lyrics for four of the tunes. She has written lyrics for his ballad "Road to Recovery" and hopes to perform it with him sometime in the future.
In her hometown of Mt. Daisen, Lovelace was involved in two projects; she conducted a "Peace and Music" class for fifth and sixth-graders at her former elementary school. The discussion connected peace through music, relating it to her previously recorded "Flame of Wishing Star," about the eternal flame from the Hiroshima bombing. The students responded with a peace song entitled "The World of the Children."
Her second project is with Shinichi Matsubara, who founded the "Singing Salon," a group of 20 senior citizens. He says singing is good for mental and physical health and most importantly they find it very enjoyable.
Lovelace is very happy to be part of this project because since her father is one of the singers. He joined the "Singing Salon" after recuperating from heart surgery. Lovelace will sing with the ensemble at the local community center cafe and introduce her original song ,"Welcome to Mt. Daisen," and songs from "Sakura." Eventually, she would like to record the vocals of the students and seniors on her planned recording of "Welcome to Mt. Daisen."
It must be noted that the camaraderie among these small business owners is heartwarming and inspiring. We ate at the Cafe Apricot and wanted to dine there the next day, but upon arriving, the owner, Mr. Suda, suggested we try another restaurant around the corner that could use the business. It demonstrates that during disasters, people come together as one despite where they are in the world.
Mr. Suda had to stay afloat for over four hours because the water in his cafe was over eight feet deep.
For more information on Lovelace and "Sakura, Home of my Heart," visit okarulovelace.com.