A love letter to pick-up b-ball manifests in "Doin' It In The Park"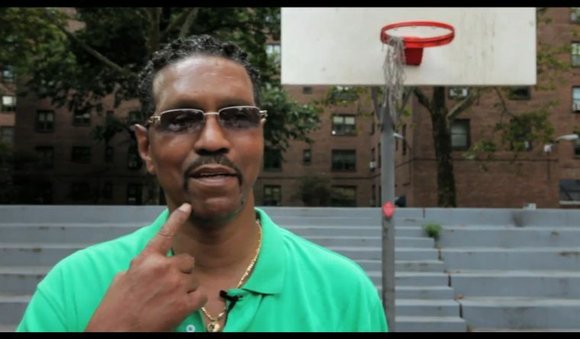 And the concept of the "common ball player" isn't relegated to free citizens. One powerful part of the documentary focuses on inmates at Rikers' Island who play pick-up games. In simply displaying the humanity of people from one of the most infamous jails in the city, delivers the message of edifying oneself and keeping your sanity through games and competition.
That pick-up basketball is one of the few subcultures left that was able to develop organically and spread word-of-mouth isn't lost on Garcia and Couliau and other places on the globe have added their own style of play (if not necessarily their own look) to the culture. Couliau told the AmNews that there aren't any French translations for certain words in pick-up basketball so the English words remain a part of the language.
"The funny thing about New York City is that everyone around the world is watching New York City and getting their inspiration from New York City," so Couliau. "Of course the style of playing is different in Europe than New York City because it's less self-centric we play more team basketball even on the playgrounds. Still, we are trained to copy/paste what's being done in New York City."
While many have decried losing children to the X-Box or other home video game consoles, Garcia said that more young people are playing outdoor basketball now than ever before.
"The majority of people playing ball outdoors in 2013 are under the age of 21," said Garcia. "And being someone who's been to 180 courts in 75 days and having played ball my entire life, in my estimation, there are more people playing ball outdoors right now than at any time period in the history of the sport...at least in New York.
"Part of the reason why we made this film was to encourage people to get out and go outside and engage in their community and participate," Garcia said. "It's free recreation."