One last glorious day in Costa Rica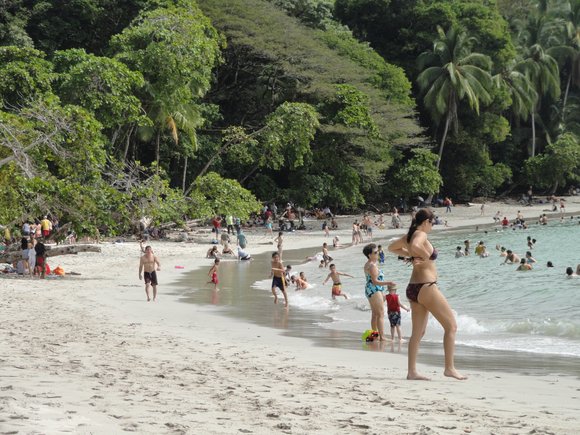 Elias has been leading tours in the Costa Rican rainforests for 18 years. He knows the flora and fauna inside and out, like the back of his hand, which made him the perfect person to guide the dozen or so of us into Manuel Antonio National Park, one of the smallest yet most highly visited national parks in Costa Rica.
Located just south of Quepos in the town of Manuel Antonio about a 15-minute shuttle ride from our amazing Costa Rican home at the Parador Resort & Spa, Manuel Antonio National Park was founded in 1972. Since that time, conservationists have been adamant and steadfast about maintaining and preserving the park's vast wildlife diversity, natural habitats, beaches and lush rainforest that together make it one of the most beautiful and bio-diverse places in the world.
From the moment we stepped inside the main gate, Elias--our experienced naturalist interpreter, who, like his compadres, is certified by the Costa Rican Tourism Board--began pointing out the myriad of animal, plant and bug species surrounding us, some close that we could--and in many cases should not--touch.
While detailing the diets, mating habits, survival techniques and more of every creature we encountered, we could catch sight of the most minute details via his high-powered spotting scope - every hairy detail of the sloths creeping lethargically in the luxuriant towering trees; the camouflaged bats slumbering inside tree crooks; and the dramatically colorful yet poisonous spiders waiting patiently in their nearly webs for their next rainforest meal. It was fascinating to see and learn so much as we leisurely but excitedly meandered along wide expanses of dirt trails throughout the park.
In addition to worldwide tourists, the park is a very popular destination for Costa Ricans, particularly on Sundays when scores of families arrive--saddled with bags and ice chests of picnic accouterment--for a day at the beach, only a short 20-minute walk from the entrance.
Beaches in the Rainforest
Costa Rica and the Puntarenas region on the western side of the country, bordering the Pacific Ocean, are world-renowned for their stunning beaches, coral reefs and excellent surfing and snorkeling. This was apparent when we arrived at the first of the park's three beaches, less than a stone's throw away from the lush forest through which we had just traversed. There we shed most of our clothing, heading toward the fine white sand and tepid water for an hour of swimming and sunbathing.
After our short stay and refreshed with fresh fruit, water and cool towels, we ventured further along a sandy trail bordered by beach on one side, a secluded cove on the other, and peppered with a plethora of tree life resplendent with squirrel monkeys playfully leaping within reach from the branches overhead. As they peered down at us, obviously accustomed to human interaction, the question was asked: "Who is watching whom?" with the monkeys as interested in us as we were in them.
Along the way we also encountered various iguanas and other types of reptile that have inhabited these wooded areas and beaches for decades. We intermittently came upon copious picturesque clearings that offered simply amazing vistas of the ocean beyond.