One last glorious day in Costa Rica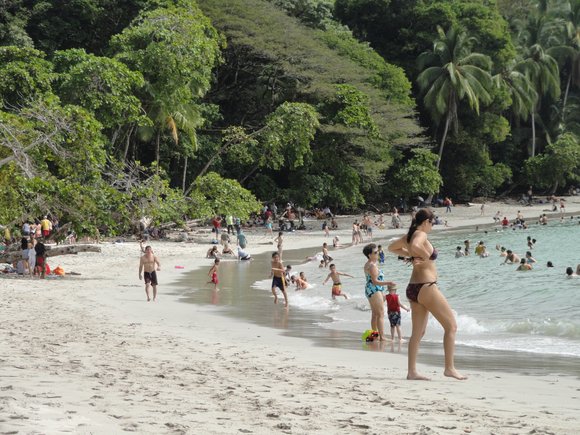 Our final destination was the main beachfront area of Manuel Antonio, a unexpected juxtaposition of long solitary stretches perfect for romance, relaxation and reflection, coupled with the cacophony of hordes (depending on the time of year) of tourists, cars, tour buses, souvenir stands shops, restaurants, and beach and water-activities; the latter encompassing everything from parasailing to windsurfing, banana boat skimmers, kayaking, body and boogie boarding, surfing and the like.
I strolled leisurely and aimlessly--after all, I was on Costa Rican time--making enough souvenir purchases until thirst and hunger began their insistent enticement. On the culinary front, within a two-block stretch alone I encountered seafood (of course!), Thai, sushi, burgers, Italian, Indian--anything your palate could desire. After soliciting a few recommendations, I settled on El Sol Restaurant and Sports Bar, located on the second floor on the main drag above a tourist information and snack shop across from the beach.
The most obvious place to plop my sundrenched body was upon one of a long line of stools situated at the expansive, completely open, al fresco counter area, which spanned the width of the restaurant. It is the place to see and be seen from the street below.
After a few hours of eating, drinking and shooting the breeze with the other happy and relaxed tourists, all while soaking in the relaxing atmosphere accompanied by a guitarist and singer regaling us with his renditions of popular American and Costa Rican standards, it was time to head home.
Within minutes of hailing a taxi, I was once again "assuming the position" on a chaise lounge chair at the Las Suites Building pool at the Parador. More relaxing, more sun, more tropical cocktails and nothing to do but swim, nap and read ... until dinner, a lengthy two-minute stroll to the El Quijote dining room for our final Costa Rican meal.
We savored it for a long while, gazing toward the horizon as day turned to night on this, the last day of a truly remarkable Costa Rican adventure.
PURA VIDA, PURE LIFE
The only time I really needed an alarm was the last night for our pre-dawn departure for the airport. As we rode the resort golf cart to the main lobby, I waved and bade a fond farewell to each of the property facilities in which I had enjoyed one of the most relaxing and exhilarating sojourns of my life.
The same faintly humid breeze that greeted us only five days ago once again enveloped my body--almost like an intimate parting gift I could unwrap and take pleasure in over and over again once I returned home.
As the van descended the steep, winding hillside, the tropical flora rushing past the windows, I closed my eyes and took a deep cleansing breath, giving thanks for Spirit's amazing creation as well as for the chance to return again someday soon.
Yes, Costa Rica really is "Pura Vida."
Lysa Allman-Baldwin writes for numerous online and print publications, including as the cultural travel writer for www.Examiner.com and as a senior travel writer for soulofamerica.com, an Afrocentric travel website.
Resource list
Costa Rica Tourism Board: 011-506-2299-5800, www.VisitCostaRica.com
Go Visit Costa Rica: 800-807-6475, 858-581-9209, www.govisitcostarica.com
Manuel Antonio National Park: www.manuelantoniopark.com
Parador Resort & Spa: 877-506-1414, www.hotelparador.com