Rico Torres is a killer shot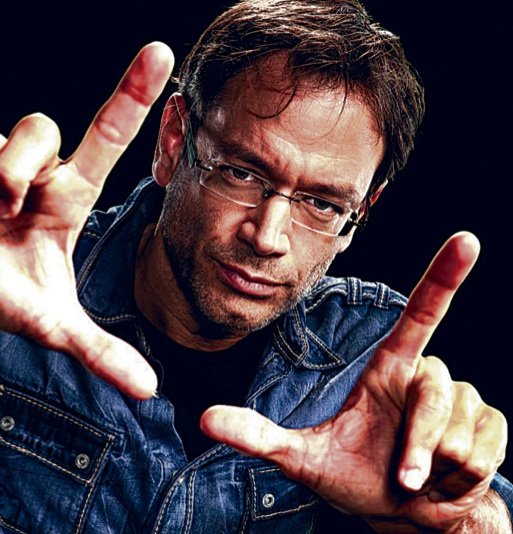 RT: Robert likes what he likes. My years working with him have been very rewarding.
He surrounds himself with a kick-ass crew. Some would say he is loyal to his crew. The reality is that if you find a crew member who excels at what he does, and he gets along with you, you make sure he is always at your side. So working on a Robert Rodriguez set is like working with family. Most of us know each other for over 10 years, and a few of us go back 18 years.
You have a 310 area code but you live in Spain too? You travel all the time. Where is home these days?
Home? Last month, I finished working on "Sin City: A Dame to Kill For," which shot in Austin, Texas. I then flew two weeks to Los Angeles for meetings, and now I am back home in Spain.
I'm accustomed to traveling. I was born in Lima, Peru, and grew up in seven countries in Latin America. My first language is Spanish. My father was a U.S. diplomat and I studied broadcasting and film at Boston University. I was itching to get my feet wet, so I moved to Los Angeles and it all opened up there. That's where we met too.
Hollywood--it's like living on the fashionable side of Mars. What does a well-traveled person like yourself pack?
Odd question, but you are, well, odd. I'm now a fan of underwear. There were years when I did not own a pair. Jeans, white and black dress shirts and a leather jacket, because I ride my motorcycle whenever possible. Lately, I have become fond of denim shirts.
On set, I always wear black so I can blend into the background and not distract the actors. Oh, and you won't find a single pair of white socks in my wardrobe.
I am odd, but you just returned to wearing underwear. OK, sexy. How did you get your first break in film? I don't know that story.
You don't know many stories, but I'm in the giving mood and you are a good listener.
At the age of 26, I was in between jobs when a producer friend needed a photographer to work on his film. I had not studied photography, but it was my hobby since the age of 14. I convinced him to hire me under the caveat that if my photos were not up to par, he would let me go. Turns out he liked my photos so much that he hired me on all his movies, which were mainly low-budget sexual thrillers and martial arts films.
Three years later, I had a strong portfolio that gave me the confidence to show it to the independent studios. One of those studios was New Line Cinema. They loved my work, but they had a policy of trying out new photographers by having them work a day or two on movies they were already shooting.
I got my break on the Jim Carrey comedy "The Mask." The regular still photographer had set up a studio on location to shoot the poster, and I filled in on the set. As fate would shape it, the images I shot, in that single day, became the images associated with the now-classic comedy. My phone started to ring, and I kept answering.