To an Ozark paradise: Eureka Springs, Ark.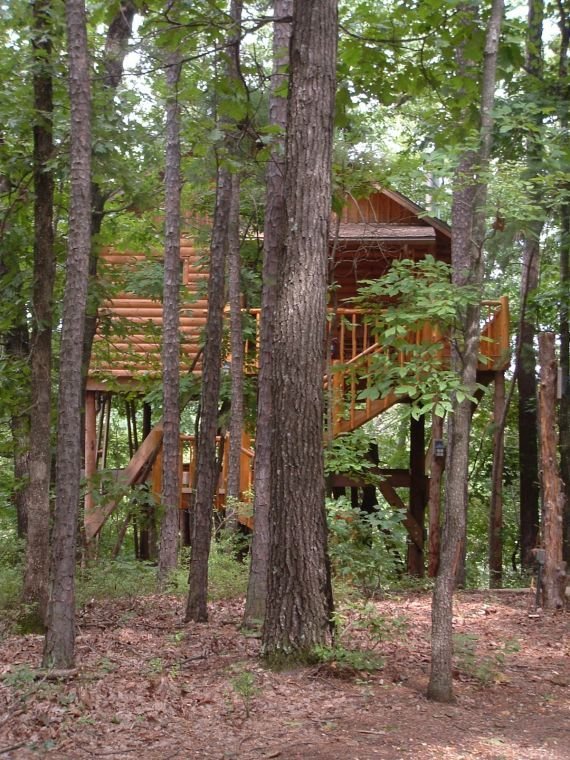 Situated up the road from the other cottages and walking distance from town, the cottage is suitable for two adults or two adults and two children and is ADA accessible, with a downstairs bedroom and oversized Jacuzzi tub with a shower in the bathroom, an upstairs loft with a queen bed and bay window, and the same luxury amenities as the other cottages. From the spacious deck with a full-size hot tub, we had a scenic, bird's-eye view of the Ozark hillsides in the distance, the flagstone terraced patio with a fountain, fish pond, flower garden and private walkways to the remaining treehouses--Cedar Shade and Hidden Oak--just below.
Terry and Patsy were just as gracious and welcoming as the last time, sitting with us on the terrace to catch up on each others' lives of late. That's one of the things that makes lodging here such an exceptional experience--an accolade that guests share over and over in the cottage guest books--the warm, welcoming, personal touch found at every turn.
As dusk approached, I sat, tuning into the sweet, mellow cacophony of the birds, allowing the gentle breeze to caress my skin, breathing in the fresh mountain air, all the while offering words of gratitude to both my hosts and the universe for such a spectacular place to enjoy the simple pleasures of life.
We've got one more adventure in Eureka Springs in which we sample the culinary landscape, enjoy a few attractions and delve into the history of a talented African-American who left an indelible mark upon this Ozark haven.
Lysa Allman-Baldwin writes for numerous online and print publications, including as the cultural travel writer for www.Examiner.com and as a senior travel writer for SoulOfAmerica.com, an Afrocentric travel website. Lysa can be reached at lallmanbaldwin@kc.rr.com.
Resource list
Eureka Springs City Advertising and Promotion Commission 866-566-9387, www.eurekasprings.org
Treehouse Cottages 479-253-8667, www.treehousecottages.com