Black community reacts to Assemblyman Dav Hikind's blackface costume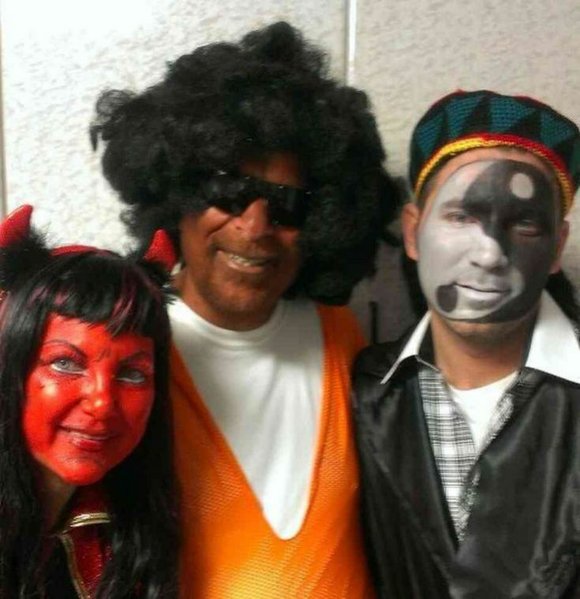 "If Blacks got dressed up as Hasidim," commented Abraham Foxman of the Anti-Defamation League, "it would be seen as equally inappropriate." And this was something that was done by fashion designer John Galliano, which upset Hikind.
Speaker Sheldon Silver, an Orthodox Jew, said Hikind's actions were "inappropriate and offensive."
At a Tuesday morning press conference at City Hall called by Assemblywoman Inez Barron and Councilman Charles Barron--who said that Hikind should resign--and attended by a host of activists and community leaders, several of them voiced powerful admonitions against Hikind.
Assemblywoman Barron read a prepared statement, which we present here in its entirety:
"Assemblyman Dov Hikind's latest antic reveals who he really is. His assertion that he did not know that appearing in blackface is offensive to Black people is incredulous.
"Mr. Hikind said that the religious holiday is a time to be wild, crazy and bizarre. If he could not find something with which he was familiar to fit that role, he certainly should not have crossed into another culture to be ridiculous. But let us look at his history.
"Dov Hikind is a student of the late Meir Kahane, whom he praised as recently as 2009. We know of the actions of the JDL and the terrorism which they spread in past years.
"Dov Hikind is the author of a bill to allow the NYPD to use racial and ethnic profiling [2005, 2007] and the leader of dismantling the first dual-language public Arabic school in New York City [2006].
"Dov Hikind is opposed to the academic tenet of free speech and debate on the college campus and sought to block the appointment of an adjunct professor because his views differed from Hikind's.
"Dov Hikind opposes the inclusion and thereby acknowledgment that there other victims of the Holocaust. By saying that the Holocaust was uniquely Jewish, he discounts the millions of people--Poles, Slavics, Soviets, Romanies, mentally ill, deaf, disabled, gay and political dissidents--who were killed; and this is similar to those historians who conveniently and deliberately deny and omit the contributions of Blacks to the building of this nation's status.
"For Dov Hikind to protest over Mayor [Michael] Bloomberg's description of Orthodox Jews as 'guys in the black hats' [October 2012] and to object to the recent fashion week styles as mocking the dress of Orthodox Jews, yet feign ignorance that Blacks would be offended at his portrayal in blackface, Afro wig and basketball jersey is ludicrous and hypocritical.
"If we were to believe that he had no clue, then he could certainly benefit for looking beyond his own narrow, limited world. He could attend some conference meetings, held several times a week during session, where assemblymembers share their insights about how the budget and the laws impact their community. Of the approximately 150 conference meetings held in the last four years that I have been in Albany, he has attended one conference.
"Hikind could serve on a few of the 37 standing committees that exist in the Assembly that meet monthly and hold hearings where public testimony is heard. That is another opportunity to dialogue and debate with people of differing views. Most members serve on at least five. Hikind serves on no committees. Notwithstanding his minimal participation, Mr. Hikind holds a 'leadership' position, assistant majority leader.
"I wonder if others at the party saw the inappropriateness of Dov Hikind's dress. Apparently his son did not because he thought it was 'cool' and
"Subsequently, he said he was sorry if people were offended, but he told Channel 5 news that he would not characterize his remarks as an apology.
"Mr. Hikind, your egregious behavior is shameful, degrading, unacceptable and unworthy of a leadership position. Your behavior and initial refusal to respond to the concerns voiced by Black people is but another revelation of who you really are."