Trayvon Martin: one year later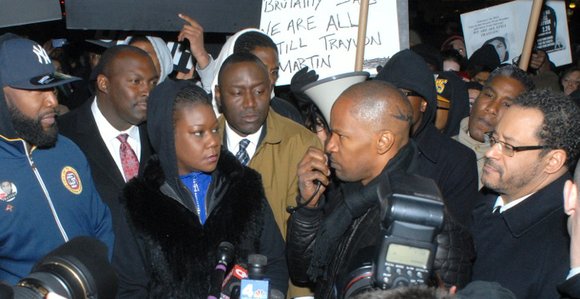 The incident thrust Fulton and Tracy into the national spotlight in 2012. Since the shooting they have became the faces of the movement.
"It's a somber day for us, but it's also a day of peace for us," Tracy said. "Today is [a] day that won't be forgotten. It seems like yesterday Trayvon was here. The wounds have not been healed but we are looking towards healing the wounds."
Tracy went on to say that Tuesday he and his family declared Feb. 26 as "Hoods Up Day."
Actor and singer Jamie Foxx also made an appearance at the vigil, giving words of support to Martin's parents, and also offering inspirational words through song. Foxx met Sybrina at the NAACP Image Awards and pledged his support.
The Oscar-winning actor asked the crowd to look at the incident without looking at race but rather from a human perspective.
Foxx said, "I made a commitment that night. I want people to know that this is a personal thing. I want to thank Sybrina for being so strong, because in the midst of all other swirling, talking points and people standing on different sides, you stood on the side of being a mother. All we are asking for is simplicity. Allow a person to have their day in court."