Bill de Blasio states mayoral platform; focuses on education, housing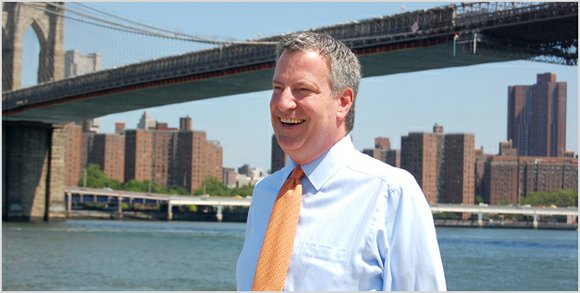 Sitting in his office at 1 Centre St., Public Advocate and New York City mayoral candidate Bill de Blasio wanted to push one particular subject matter during his conversation with the AmNews: education.
It's the core issue of his campaign, along with mainstays like housing and policing, but it's education that revs his figurative engine. The public advocate focused particularly on two often ignored aspects of growing up in the school system: early-childhood education and after-school programs for middle school kids.
"The more I looked into pre-K--and I always bristle at this term being used in the city because it doesn't exist [here]--our numbers are based on a pool of about 68,000 [4-year old] kids," said de Blasio. "Last year, 10,000 got no pre-K, about 38,000 got half-day pre-K [and] about 20,000 got full-day pre-K, and that, to me, doesn't allow us to move forward.
"It means for so many of our children, they're missing early childhood education at the moment where it would have the greatest effect, which is 3 and 4 years old," said de Blasio. "The ones who get half--it's simply insufficient for their educational needs. It's also insufficient for parents' needs in terms of schedule."
De Blasio told the AmNews that he'd like a heavier emphasis on what he believed to be the lynchpin of education in New York and felt that the money could easily come from the more well-off residents of the city. As part of his "Starting Early, Learning Longer" plan, de Blasio would increase the tax surcharge from 3.9 percent to 4.3 percent for resident who make $500,000 or more annually for five (just over the length of one mayoral term). The money from that tax surcharge would be used specifically for early-childhood programs and after-school programs for middle school kids, who he feels are just as vulnerable as early childhood.
"Going back to the time when I was on School Board District 15 in Brooklyn, a middle school is the part of our education system that often gets the least resources when dealing with, in many ways, the toughest times in a kid's life--a transitional time. The school only has the kids for three years, which is not enough time to make a consistent imprint. And if we want middle school to work, we need to stretch out the school day." De Blasio said he would rather tax those well-off who he feels are willing to pay for a better education for young New Yorkers rather than "getting into a lengthy contract battle [with the unions], like you see in other parts of the country."
The public advocate's idea for this plan springs from his experience working under the David Dinkins administrations' "Safe Street, Safe City" program. That program, from over 20 years ago, was set for seven years and was also funded through an increase in the tax surcharge. It included early childhood and the Beacon after-school program. De Blasio also wanted to remind New Yorkers to give Dinkins a little credit for the city's rejuvenation in the 1990s.