Bill de Blasio states mayoral platform; focuses on education, housing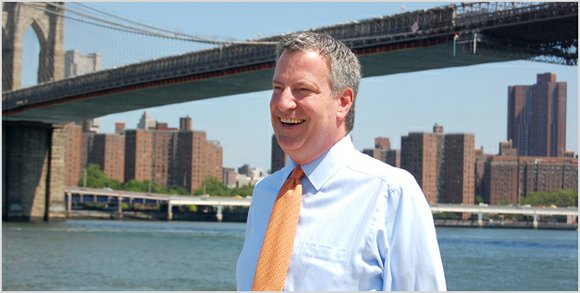 "Even though dear [Rudy] Giuliani likes to take credit, the fact is that the resources he used to make the city safer largely came from a program imitated by David Dinkins and approved by the Legislature," de Blasio said.
Even though de Blasio served on School Board District 15, he believes that mayoral control of schools is a good thing. However, the candidate told the AmNews that he would "modify" it and include parents and others into the decision making process ... with the buck stopping with the mayor and the schools chancellor.
"Mayoral control of education is a better system than the school board system that we had before," de Blasio told the AmNews. "As a citywide matter, it was not an effective enough system. But the way the mayors approached mayoral control, I think, is too narrow and too undemocratic, not responsive to parents and I don't think it has to be that way. I would like to give more power to community education councils. I would like to give more power to the education policy panel. I still think, in the end, the mayor and the chancellor have to make the final decision, but both of those levels can provide a serious check and balance and lead to better outcomes." De Blasio didn't state specifically how those powers would be divided.
Another issue de Blasio tackled during the sit-down conversation was the recent story of the New York City Housing Authority's idea to sell land on public housing property to private developers for luxury housing. Current Mayor Michael Bloomberg called it a "creative idea." De Blasio called for an assurance that this isn't another roundabout way to push low-income New Yorkers off of highly coveted property.
"I think people who live in public housing--a hugely important part of their city--they need assurances that 'creative ideas' don't undermine their rights to quality affordable housing," said de Blasio. "And I think they have every reason to be cynical when you look at how NYCHA's been run during the Bloomberg years ... particularly the problem with repairs. The number one citizen complaint that we get in this office is NYCHA repair problems, so I think there's a broad sense with the residents of public housing that they're not important to the agenda at City Hall as they should be.
"They're skeptical about city policies and for good reason," de Blasio said.
When commenting about Bloomberg, de Blasio said that some of his ideas haven't been undertaken by the administration because of the tax increase requirement, but he felt that hadn't stopped Bloomberg before when it helped his agenda.
"He does not believe in taxing the rich," said de Blasio. "Now when he wanted to tax the rich after 9/11, at a rate even a little above what I'm talking about, then it was OK. And as recently as only a few years ago, he was saying that the rich aren't gonna leave New York City because it's New York City. And he's suddenly changed his tune in recent years, saying if you tax the rich, they'll all leave," said de Blasio. De Blasio is looking to stay in New York, and most of its current residents are as well. What the city will look like in four years remains to be seen.