"Hands Off Assata Shakur Day"
5/31/2013, 1:01 p.m.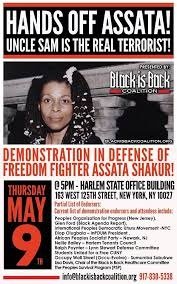 A coalition of grassroots organizations are coming together to advocate for the "political freedom" of Assata Shakur on Thursday, May 9. The "Hands Off Assata Shakur Day" features three events beginning with an 11 a.m. press conference and rally in Harlem.
The press conference will be located at the Assata Shakur-Guillermo Morales Community and Student Center at City College of New York in Room 3-201 in the NAC Building on the Amsterdam Avenue entrance between 137th and 138th streets.
The second event is the "Hands Off Assata!" demonstration at the Harlem State Office Building at 5 p.m. The State Office Building is located at 163 W. 125th St. For more information on the 5 p.m. demonstration, call 917-830-5338. The demonstration will be followed by a meeting at 7 p.m.
The organizations are calling for the removal of Shakur's name from the FBI's domestic terrorist list. The groups are also calling attention to other issues and concerns impacting the former Black Panther Party's life after being targeted by the FBI in the 1970s for crimes ranging from the murder of a New Jersey state trooper to armed robbery.