Long Island College Hospital is here to stay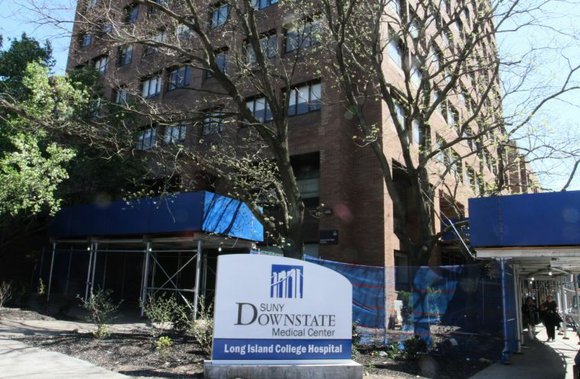 After a half-year worth of protests, meetings with local officials, court action and letter-writing campaigns, the workers and patients at Long Island College Hospital (LICH) can rest easy.
SUNY Downstate Medical Center, the parent company of LICH, decided to withdraw the plan initially submitted to the state Department of Health to close the hospital. SUNY Downstate confirmed such in a letter sent to the New York City Council last week that stated its commitment to expand the search for a new operator for the hospital. Jill Furillo, RN, executive director of the New York State Nurses Association (NYSNA), claimed victory.
"This is an incredible victory for Brooklyn patients. We want to thank Gov. [Andrew] Cuomo for helping us find solutions to Brooklyn's health care crisis," said Furillo in a statement. "We are so grateful to everyone who has worked to keep LICH open." Furillo then shouted-out elected officials like Council Member Leticia James, Public Advocate Bill de Blasio, Council Speaker Christine Quinn and Brooklyn Borough President Marty Markowitz for their help.
Last week, New York City Council members voted unanimously in favor of a resolution calling for SUNY and the Department of Health to collaborate with stakeholders to not only find another operator for LICH, but ensure that all of the hospital's assets are used to preserve care. The resolutions were adopted by the Council's Health Committee and sponsored by Council Members Brad Lander and Stephen Levin.
George Gresham, president of 1199SEIU United Healthcare Workers East, spoke on the importance of keeping this Cobble Hill, Brooklyn-based hospital open.
"From the beginning, our members worked with nurses, doctors, neighbors, patient advocates and elected officials and did everything in our power to find alternative solutions that would keep LICH's vital medical services and good jobs in the community," said Gresham. "This victory proves the grassroots strength we have when we unite for quality healthcare, and we will continue to work hard to ensure LICH remains open and thriving for generations to come."
Back in March, in a statement announcing the closing, SUNY Downstate officials called the move necessary in order to "stabilize the finances of Downstate Medical Center and preserve its 8,000 jobs and Brooklyn's only medical school." SUNY officials claimed they were losing $1 million a week and were in danger of closing within 45 days due to lack of funds. The closing would've put 2,000 LICH employees out of work.
Toomas Sorra, MD, president for Concerned Physicians of LICH, was pleased with the more recent news.
"We are encouraged by SUNY's decision to withdraw the closure plan," said Sorra in a statement. "We are committed to the restoration and improvement of services at LICH, and we will remain vigilant in our efforts to ensure that SUNY fulfills its obligation to maintain services and departments at the levels in place prior to the submission of the closure plan."
NYSNA officials said they won't drop their lawsuit against SUNY, which alleged that real estate was a major factor in limiting the public's knowledge of the trustees' plans to close the hospital, but said that they looked forward to conversations that could lead to new management at LICH.