Memorial Day: A remembrance of sacrifice, and the promise of summer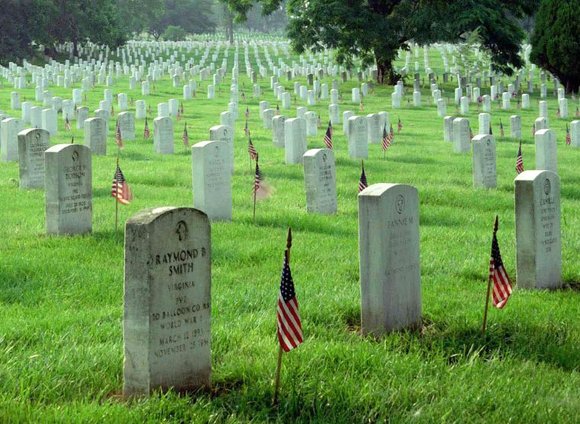 In recognition of the swelling international movement, Michael started to raise money and awareness of war veterans. She was honored on Non. 9, 1948, by the U.S. Postal Service with a 3-cent stamp.
At a formal Memorial Day service, you may hear a single bugle play a tune called "Taps." It is one of the most recognized tunes in history. The somber 24-notes are played at funerals and memorials for those who died in the armed services.
"Taps" was written by Daniel Adams Butterfield in July 1862 and was originally called "Extinguish Lights." It was a lights-out bugle call used to signal the end of a soldier's day. It was made the official bugle call after the Civil War.
In Flanders Fields
By Col. John McCrae
In Flanders fields the poppies blow
Between the crosses, row on row,
That mark our place; and in the sky
The larks, still bravely singing, fly
Scarce heard amid the guns below.
We are the Dead. Short days ago
We lived, felt dawn, saw sunset glow,
Loved and were loved, and now we lie
In Flanders fields.
Take up our quarrel with the foe:
To you from failing hands we throw
The torch; be yours to hold it high.
If ye break faith with us who die
We shall not sleep, though poppies grow
In Flanders fields.
As you enjoy the Memorial Day holiday, remember that it's more than just a day off. It's a time to honor and remember the men and women who fought and died in war.
Activities
Look it up: Use the Internet or another reference source to learn more about Memorial Day and ways to remember our soldiers and veterans.
Talk about it: Share a story about someone you know who is in the military.
Write it down: What ways can we remember and pay tribute to our military? Share your ideas with your classmates.
This Week in Black History
May 20, 1743: Leader of the great Haitian slave revolt, Toussaint L'Ouverture, is born.
May 21, 1881: Blanche Kelso Bruce, the first Black U.S. senator to serve a full term, is sworn into office.
May 25, 1926: The great jazz trumpeter and composer Miles Davis is born.
May 26, 1943: Liberian President Edwin Barclay, the first president from Africa to visit the White House, pays a visit to U.S. President, Franklin Delano Roosevelt.