Mother's Day celeb favorites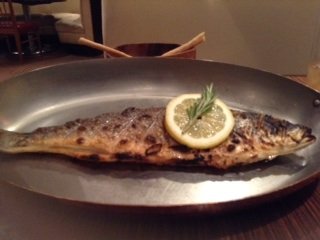 Mother's Day dining choices are challenging, but I suggest you check out where the celebs chow down. These venues will impress the "queen" in your life and her court.
Think about it--the famous folks can dine anywhere (deep pockets travel wide), but the glamorous lot keep these eateries buzzing. The great news is that it won't dent your wallet.
First choice is a "mad man" discovery. I was strolling in Midtown, fighting the pre-theater hunger pangs, when, guided by my nose and a celebrity sighting, I found myself in Italy, where dinner was being served. Abboccato, meaning "pleasing to the mouth," as well as "a touch of sweetness," features a menu that reflects the appetites of Italians, favoring fresh, seasonal choices. That makes for an exciting twist on classic dishes.
Under the Livanos Restaurant Group, partner Nick Livanos--whose wife is Sicilian--and executive chef/partner Jim Botsacos use their family trees to showcase regional bests. The result is Italian soul food.
Jon Hamm ("Mad Men") favors the whole fish and pear martinis. Cynthia Nixon ("Sex in the City") switches it up by starting with the homemade wild mushroom flatbread with truffle cheese, robiola and ricotta.
The on-site cured pork melts in your mouth. Homemade gelato, made with the freshest ingredients, tastes of Rome. It's not printed in the menu, but ask for the homemade burrata cheese, a typical product of the Murgia in Puglia, a region in southern Italy. It's made from mozzarella and cream; the outer shell is solid mozzarella, while the inside contains both mozzarella and cream, giving it an unusual, soft texture.
Abboccato is located at 136 W. 55th St. For more information, call 212-265-4000 or visit www.abboccato.com. An international film director hang-out is my solid second great choice. Co-owned by Academy Award winner Quentin Tarantino, Do Hwa is a Korean restaurant that delivers flavorful, light, authentic home cooking. It's earned that title because all of the cooks are "ajummas" in their 60s or 70s. The term simply means "Mrs."; it's a title for a married woman with children.
Tarantino's favorite is jalapeno chicken-crispy chicken tenders drizzled with homemade jalapeno soy sauce. Do not miss the Seng Sun Jun, which is thinly sliced codfish filets in light egg batter with soy-mustard dipping sauce. The home-style kimchi is addictive. The drinks are poured generously. Happy Hour is Monday-Friday 5-7 p.m. Doh Wah is located at 55 Carmine St. For more information, call 212-414-1224 or visit www.dohwanyc.com.
If your queen's court is filled with big eaters and finicky youngsters, it's a no-brainer to turn to Guy's American Kitchen & Bar. It's warm, inviting and brimming with life, and it feels like you're Guy Fieri's frequent and honored guest. The price, location and food portions makes this a "must" for American food lovers who enjoy a witty twist.
Fieri started his pretzel business at 8 years old, saving the money to send himself to France for cooking lessons.
Try the sashimi tacos-crispy wonton tacos stuffed with sashimi-grade ahi tuna, mango jicama salsa, wasabi and sweet soy. It sounds odd, but your mouth will thank you. Order two; you won't want to share.
This hopping joint has iconic french fries that crunch! Crunch!
Get ready for the best doggie bag in the city. The portions are so large, you'll be using one. Guy's American Kitchen & Bar is located at 220 W. 44th St. For more information, call 646-532-4897 or visit http://guysamerican.com.