Wein's Newport Jazz Fest carries on!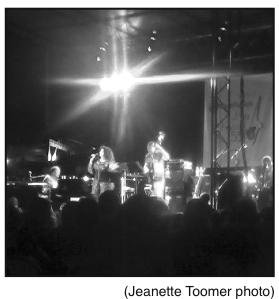 "The granddaddy of all jazz festivals," exclaimed host Ron Della Chiesa at the opening night of the Care Fusion Jazz Festival 55 in Newport, Rhode Island. It all started in 1954 when pianist George Wein inaugurated the live concert series with a handful of artists and a dream.
Back in December, Festival Networks and JVC told Wein that they could no longer afford to fund the event. Wein refused to cancel the Newport festival and continued to plan the weekend's line-up using his own funds. Fortunately for this 55th anniversary, a new sponsor, CareFusion,stepped up to produce the previously titled Newport Jazz Festival, opening with Chaka Khan and the George Duke Trio on Friday, August 7 and closing with the legendary singer Tony Bennett on Sunday.
In a surprise appearance, pianist and founder Wein joined clarinet player Anat Cohen and her trio onstage Friday at the International Tennis Hall of Fame. Cohen played several songs in tribute to the centennial of Benny Goodman, including "Sweet Georgia Brown" and "Memories of You." Guitarist Harold Alden added virtuoso rifts and drummer Marion Felder added rhythmic power and creative bursts.
"I have not played here since the 1970s,"said George Duke. At that time, he had appeared with Cannonball Adderley. He then commandeered the stage for a full set of song and music, accompanying the dynamic Chaka Khan.
In introducing Khan, Duke recalled how the R&B recording artist had surprised audiences singing a duet with Carmen McRae years ago in which she proved that she belonged on the jazz scene. Khan delivered splendidly on several jazz classics, including "Them There Eyes" and "Round Midnight."
A few times she wandered into her high-pitched screech, but modulated in the lower register with some exceptional scatting during most of her performance. For "Night in Tunisia" she played her voice like an instrument for a soulful swing effect. Dispute calls from the audience for "Ain't Nobody" and her R&B hits, she stayed the course and strayed only once with a sentimental pop rendition of "To Sir with Love" in a tribute to her late father.
On Saturday, young musicians played alongside veteran jazz artists, beginning with the North Carolina Central Jazz Combo with recording artist and pianist Joey Calderazzo on the Waterside stage. Featuring talented college students from North Carolina Central University in Durham, this group worked seamlessly together and broke out smoothly in improvisational solos. The band included Larry Draghn on drums, bassist Christian Dasheill, recent graduate Brevan Hampden on percussions and artist-in-residence Joey Calderazzo.
Claudia Acuna played to a full audience and closed her set with a uniquely creative and upbeat arrangement for "Everytime I Say Goodbye." Her quartet was inventive and thrilling, with pianist Jason Lindner, Carlos Henderson on bass, Yayo Serka on drums and versatile guitarist Juancho Herrera. Vijay Iyer Trio treated the crowd to avant-garde jazz compositions, similar to the style of Theolonious Monk. Drummer Marcus Gilmore, grandson of Roy Haynes, effectively rounded out the trio. Iyer led on piano. The Christian McBride Trio played out a rich jazz set with McBride leading on bass.