Wein's Newport Jazz Fest carries on!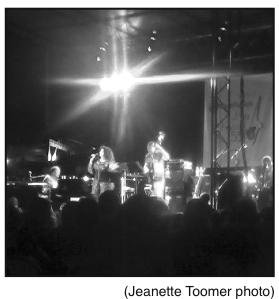 Branford Marsalis blew seemingly non-stop on his saxophone and kept the jazz tempo lifted up with his quartet. Marsalis also produced several festival jazz artists, including Acuna, Calderazzo and Miguel Zenon, on his record label Marsalis Music and had their CDs available for purchase at lower festival prices. Festivalgoers had the opportunity to see and hear him play twice on Saturday, once on the smaller Waterside set and then later on the Fort stage.
Mos Def and the Watermelon Syndicate,a large jazz band complete with string and horn sections, closed out the Saturday festival. Def rapped and alternately sang on several original jazz/rap, or razz, compositions and created a new sound that successfully melded the hip-hop and jazz worlds.
Other highlights included: Dave Brubeck reprising his signature favorite, "Take Five," and playing a tribute medley of Duke Ellington numbers; the most accomplished bass player of our times, Ron Carter, showing up in a surprise performance; and another bassist, the young and multitalented jazz vocalist and songwriter Esperanza Spalding, playing on the main stage Saturday.Saxophonist Joe Lovano Us Five delivered a high-powered, contemporary jazz sound and again on Sunday with dueling drummers. Speaking of strong drummers, special mention goes to Otis Brown III and Gregory Hutchinson, who, with saxophonist Joshua Redman, delivered a brilliant rhythmic jazz display.