Ronald Shannon Jackson, jazz drummer, dies at 73
Ron Scott | 11/1/2013, 5:11 p.m.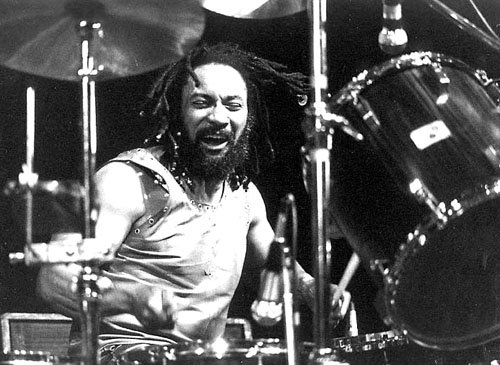 Ronald Shannon Jackson, one of the most influential avante-garde drummers of the 20th century, whose ferocious sound fused funk, rock, free jazz, African rhythms and world sounds into a boundless concept, died on Oct. 19 at his home in Fort Worth, Texas, after a long illness, as stated by his sister-in-law Stephanie Francis. He was 73.
Like the bands of Miles Davis and Art Blakey's Jazz Messengers, Shannon's group the Decoding Society, which he started in 1979, and later Power Tools became the proving grounds for exploring young musicians like guitarists Bill Frisell, James "Blood" Ulmer and Vernon Reid; sax players Eric Person and James Carter; violinist Billy Bang; pianist Onaje Allan Gumbs; bassist Melvin Gibbs; and Robin Eubanks on trombone.
Jackson played in the marching band and studied music at I.M. Terrell High School under the direction of G.A. Baxter, where the noted teacher also taught Fort Worth musicians Ornette Coleman, John Carter, King Curtis, Dewey Redman and Julius Hemphill.
After graduation, Jackson attended Lincoln University in Jefferson City, Mo., with the pianist John Hicks, trumpeter Lester Bowie and saxophonist Julius Hemphill. While still a teenager, he worked with Ray Charles playing soul, rhythm and blues and jazz. After being awarded a full music scholarship to New York University, he moved to New York in 1966. He attended NYU with saxophonist Rene McLean. "He was a great musician and human being," stated McLean.
While in New York, he eventually began playing with Betty Carter, Jackie McLean, Charles Mingus, McCoy Tyner and Joe Henderson. The musicians with whom he also played that influenced him the most were the avante-garde saxophonist Albert Ayler, pianist Cecil Taylor and saxophonist Ornette Coleman.
During his time with Coleman's Prime Time band, he learned the unique concept of harmolodics. In 1966 and 1967, he played with Ayler and is featured on two volumes of "At Slug's Saloon." In 1978, Jackson recorded four albums with Taylor.
In 1974, pianist Onaje Allan Gumbs introduced Jackson to Nichiren Buddhism and chanting. It was Buddhism that helped get Jackson back on the right track and into his music again. Gumbs appeared on Jackson's albums "Decode Yourself" and "Puttin' on Dog." He is currently working on an album of Jackson's melodies for solo piano that they were still collaborating on right before his death.
"He was a big brother to me. I would consult him not only about music, but about life," said Gumbs. "He was very lyrical and soothing. That isn't really associated with his music, but he was very sensitive and revolutionized what music could be about."
In Jackson's ongoing effort to push the music, he formed hardcore avante-garde group Last Exist in 1986 with guitarist Sonny Sharrock, saxophonist Peter Brötzmann and guitarist Bill Laswell. A few years later, Jackson joined Laswell again for the group SLX with violinist L. Shankar and Senegalese drummer Aiyb Dieng.
Jackson, an exceptional composer and arranger, made a three-month trip to West Africa, where he visited nine countries, expanding his music vocabulary for world beats, as well as an extension of African rhythms. HIs album "When Colors Play" (Decoding Society), recorded live in 1986, was inspired by this trip.