Avonte search continues, Schumer suggests tracking devices for autistic youth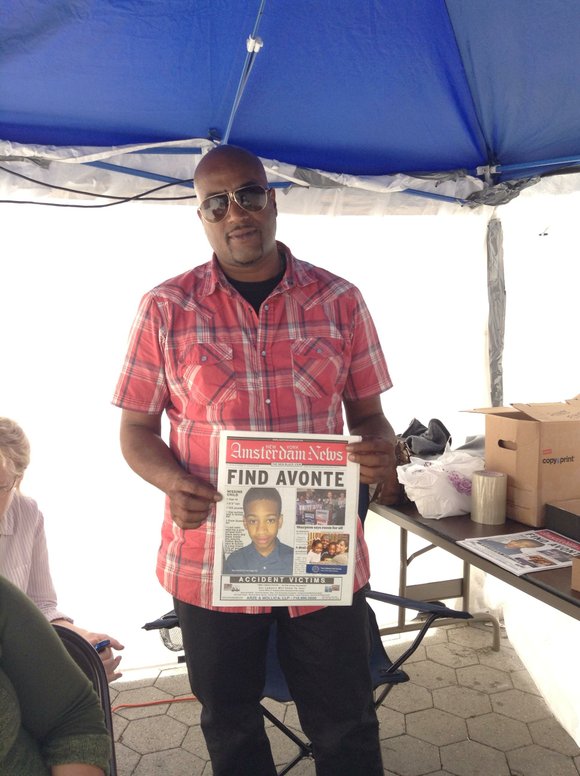 The city has been transfixed by the story that autistic and non-verbal Avonte Oquendo, 14, is still missing after almost five weeks. Both grassroots and official NYPD search parties have combed the city relentlessly. On Oct. 4, Avonte Oquendo ran out of Center Boulevard, a Long Island City school, after being left unsupervised.
There has been a massive search for him with an army of volunteers from all over the country and law enforcement from all over the tristate area. He still has not been found despite search and recovery efforts.
Daniel Oquendo told the AmNews, "I think someone has my son. I believe he is still alive, and I am just asking them to let him go, because he wants to come home. My son is autistic and does not speak. They can just let him go, and he cannot even say who they were or what happened to him. We want him to come home. Whoever has him, they should please let him come back to his family."
After spending a month looking for his son, Daniel Oquendo told the AmNews that he is heading home to Florida to check on his ailing parents. "I am leaving briefly, but I will be back. I am praying that we can step up all efforts and come to a positive conclusion."
He asked the city to please keep up the strenuous effort to find his son."I just wanted to take this time to thank the public for all they have done for Avonte," said Daniel Oquendo. He noted that his son, who turned 14 on Aug. 30, loves sweets, Beyoncé and video games on his tablet, especially "Temple Run."
On Tuesday, Sen. Charles E. Schumer called for the Department of Justice (DOJ) to create and fund a program to provide voluntary tracking devices for children who have autism or other developmental disorders, for whom "bolting" from parents or caregivers is common. The voluntary program would only be for parents who choose to use the devices.
Schumer cited the case of Avonte Oquendo, whom he said "bolted" from his school in Queens and, four weeks later, he is still missing. Schumer stated that the federal government already has a program to track seniors with Alzheimer's and suggested that this program should be extended to include children with autism and other disorders. Schumer stressed that the program would be totally voluntary for parents, would be run by the Police Department or other local law enforcement and would also provide funding for training of individuals on how to use and maintain these devices. Parents, schools and law enforcement would all have to choose to participate. The senator pointed out that Massachusetts already has a successful program to help locate children with autism who wander.
In a letter to Attorney General Eric Holder, Schumer states, "As you may have heard, early last month, a young child diagnosed with autism spectrum disorder (ASD) named Avonte Oquendo vanished from his Long Island City school in my home state of New York. Unfortunately, this is not uncommon among children with ASD; according to a study conducted by the Interactive Autism Network, children with autism are four times more likely to wander than nonautistic children. In the wake of this terrible incident, and the many similar occurrences across the nation, we must do all that is necessary to ensure the safety of our children."