De Blasio has victorious landslide, says work starts now
The old adage goes that the key to selling anything in America is fear. But Mayor-elect Bill de Blasio sold hope and the dreams of a New York where everyone can prosper.
De Blasio defeated Republican nominee Joe Lhota in a landslide with 73.3 percent of the citywide vote. New Yorkers were more accepting of de Blasio's progressive dream than of Lhota's campaign, which emphasized not turning the city into another Chicago or Detroit.
De Blasio is the first Democrat elected to City Hall since 1989, when David Dinkins defeated Rudolph Giuliani. And when the mayor-elect spoke Tuesday night, he hopped right into the rhetoric that galvanized his supporters the past several months.
"I've spoken often about 'A Tale of Two Cities,'" said de Blasio during his victory speech at the Park Slope Armory YMCA. "That inequality—that feeling of a few doing very well while so many slip further behind—that is the defining challenge of our time. Because inequality in New York is not something that only threatens those who are struggling.
"The stakes are so high for every New Yorker," de Blasio continued. "And making sure no son or daughter of New York falls behind defines the very promise of our city."
De Blasio received praise from several elected officials after his victory. New York Gov. Andrew Cuomo, who worked with de Blasio in the Bill Clinton administration, spoke of the mayor-elect's beliefs and how they'll power him to a successful reign at City Hall.
"On a personal level, it is particularly gratifying to see Bill, a true friend and former colleague, win tonight," said Cuomo in a statement. "He has the experience to run New York City, a compelling vision for its future, and he and his family epitomize the New York story."
State Democratic Conference Leader Andrea Stewart-Cousins praised New Yorkers for electing de Blasio and felt that his election signaled a shift in what the city wants in a mayor.
"Tonight's historic victory for Bill de Blasio clearly demonstrates that voters want common sense, progressive solutions to the issues facing New York City and state," said Stewart-Cousins in a statement. "I look forward to working with Mayor-elect de Blasio to build on New York's strengths and provide New Yorkers with the progressive government they deserve."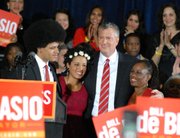 While the victory signals a shift in a possible progressive agenda coming to City Hall, the pressure's on to deliver on promises that other elected officials and opponents see as far-fetched. With every public union working without a contract, de Blasio is 54 days away from the beginnings of a potential mess. On Tuesday, the mayor-elect spoke about the challenges City Hall will face by referencing challenges of the past.
"New York is no stranger to big challenges," said de Blasio. "We've faced the depths of the Depression, we've stared down the hateful destruction of terrorists, we've endured the ferocity of gale-force winds and surging tides, and each and every time, New Yorkers have faced seemingly insurmountable obstacles with grit and determination and an unyielding commitment to one another, and we have always prevailed."