Imhotep's guide to Black events Nov. 7 - 13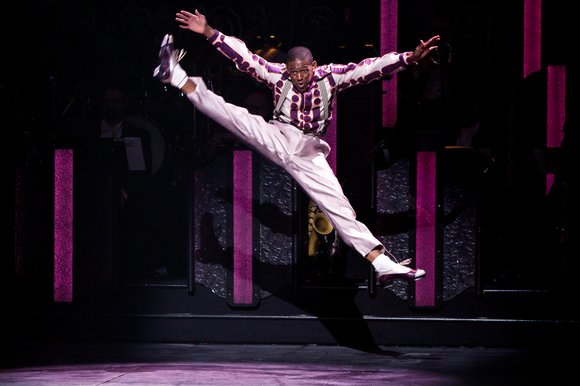 Brilliant jazz vibraphonist Jay Hoggard performs on Sunday, Nov. 10, with opening act Young Musicians, presented by PJ's Jazz Society of the First Presbyterian Church, East Lincoln and North Columbus, Mt. Vernon, N.Y. Doors open at 5 p.m. The performance takes place from 5:15 to 9 p.m. For more information, call 914-667-0823 or visit pjsjazz.org.
Multiple Grammy Award winner Aaron Neville celebrates his critically acclaimed new solo album "My True Story," revisiting his favorite classics from the doo-wop era on Friday, Nov. 15 at 8 p.m. at BMCC Tribeca Performing Arts Center in New York City. For tickets, call 212-868-4144 or visit tribceapac.org/aaronneville. Neville moves to the Bergen Performing Arts Center, Englewood, N.J., on Saturday, Nov. 16 at 8 p.m. For tickets, call 212-227-1030 or 800-745-3000 or visit the box office. You may also visit Ticketmaster.com or BergenPAC.org.
TV
"The African Americans: Many Rivers to Cross," a six-part documentary series by Henry Louis Gates Jr., is airing Tuesdays, now through Nov. 26 at 8 p.m. ET/PT. It details the African-American saga from the origins of slavery on the African continent and the arrival of the first Black conquistador, Juan Garrido, in Florida in 1513, through five centuries of historic events right up to today—with President Barack Obama serving his second term in the White House. Check your local PBS TV stations, WNET and WLIW.
Film
The Pan African Film Festival (PAFF) has announced the final call for submissions. Late submissions will be accepted until Nov. 16. Official selection announcements will be made beginning Dec. 16. The 22nd annual PAFF will be held on Feb. 6-17, 2014, in Los Angeles. For festival information, submission procedures, fees and registration, call 310-337-4737 or visit www.paff.org. 
Books
It's Diabetes Awareness Month and Monifa Maht, "The Healthy Motivator," presents a "Bed Aerobics Fitness Flow" book party on Thursday, Nov. 5 from 6-8 p.m. at Londel's Restaurant and Lounge, located at 139th Street and Eighth Avenue in New York City. Visit thehealthymotivator.com.
Community
The Hofstra Cultural Center presents a series of events and symposium commemorating the anniversaries of the Emancipation Proclamation, Gettysburg Address and the March on Washington. All events are free and open to the public. Registration is encouraged. Visit hofstra.edu/culture for more info.
The Center for Culture/the African Poetry Theatre (176-03 Jamaica Ave. in Jamaica, Queens) invites all to the Gambia "ROOTS" presentation on Sunday Nov. 10 at 3 p.m.. Come watch an exciting 30-minute video about the Roots Festival and participate in a question and answer session about traveling to this West African nation for a festival of music and tours to Kunte Kinteh Island, the Alex Haley village of Jufferre, and an investment seminar. Admission is free. For more information, call 718-523-3312.
Hear Imhotep Gary Byrd on 107.5 WBLS-FM daily with "Imhotep's On-Air Guide to Black Events" and "Express Yourself," Sunday evenings from 7 to 9 p.m., and on WLIB-AM with "The GBE Mind Flight," Sunday evenings from 9 p.m. to midnight. The full show can be heard on HD radio at WBLS-HD2. IGB is also heard on WBAI-FM 99.5 with Radio GBE: The "Global Black Experience" and "Global Beat Experience," Saturdays from 5 to 7 p.m. We are archived online with both shows at www.wbai.org. To contact us for bookings or to reach us about your event, email igbexp@gmail.com, find Imhotep Gary Byrd on Facebook or follow us on Twitter @GBELIFE or call 212-592-3279.