Anna Arnold Hedgeman and Dorothy Height were mutual friends in struggle
Herb Boyd | 11/14/2013, 2:08 p.m.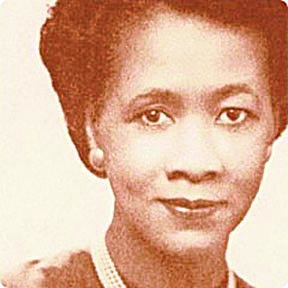 One of the last honors Hedgeman received occurred in 1983, when she was the recipient of the Pioneer Woman Award by the New York State Conference on Midlife and Older Women. The award came close to summarizing her remarkable life. On Jan. 17, 1990, she died in Harlem Hospital at 90. For many years, she was one of Harlem's most distinguished residents.
Height died in a hospital in Washington, D.C., and there were two funeral services for her—one in Harlem and the other at the National Cathedral in D.C., which was attended by a long roster of dignitaries, including President Bill Clinton and his wife, Hillary. Clinton had presented Height with the Presidential Medal of Freedom when she was 92. It was among her most cherished awards.
Activities
Find out more: The lives of Anna Arnold Hedgeman and Dorothy Height intersected in a number of interesting ways, particularly through the various organizations in which they led or were members. Seek out a few of them and note their common traits and goals.
Discussion: Both women were pioneers in many respects. Discuss the ways in which they broke barriers of race and gender. Note also the international implications of their lives and achievements.
Place in context: Both women experienced similar events and history during their lifetimes. During which period do you feel they made their most significant accomplishments and why?
This week in Black History:
Nov. 10, 1963: Malcolm X delivers his famous "Message to Grass Roots" at King Solomon Baptist Church in Detroit. This is the last major speech he will give as a member of the Nation of Islam.
Nov. 11, 1954: J. Rosamond Johnson, brother of James Weldon Johnson, dies. He wrote the music for many of the songs composed by him and his brother, including "Lift Every Voice," which became the Black National anthem.
Nov. 12, 1977: Earnest "Dutch" Morial is elected the first African-American mayor of New Orleans.