The Greater NY Links, Rep. Rangel and Home Depot Foundation's pre-Veterans Day celebration
11/14/2013, 3:19 p.m.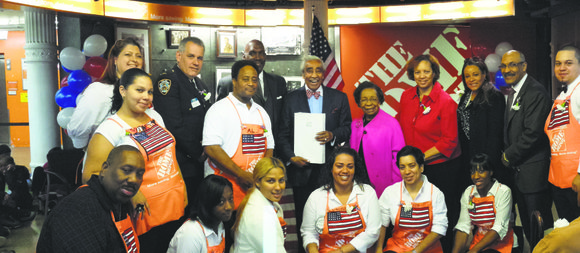 Korean War veteran Rep. Charles Rangel; the Greater N.Y. Links; Vietnam veteran and Borough of Manhattan Community College counselor for Veteran Affairs Eric Glaude; and Harlem Veteran Affairs director Walter Bridgers met with employees and staff of the Home Depot Foundation. Together, they announced the launch of the third Celebration of Service campaign, an annual two-month initiative that is part of the foundation's five-year, $80 million commitment to ensure military veterans and their families have a safe place to call home. Last week, the Home Depot Foundation invested $3 million, and thousands of Home Depot associate volunteers completed over 350 service projects, many addressing the particular needs of women veterans, caretakers and their families.
There are currently about 22 million veterans living in the U.S., 3.5 million of whom have service-connected disabilities and 40 percent of whom are over the age of 65. Many need accessibility modifications to live comfortably and safely or are unable to perform maintenance on their homes. The inability to modify, maintain and repair their homes impacts not only the veterans, but their families and caregivers as well. The vast majority (70 percent) of caregivers for veterans are spouses, while an additional 25 percent are parents. The fastest growing group within the veteran community is women. Unfortunately, women veterans are also the fastest growing segment of the homeless population and are twice as likely to be homeless as their civilian counterparts.
To address the diverse housing needs of veterans, since 2011, the Home Depot Foundation has invested over $50 million in hundreds of organizations that provide housing and rehabilitation services to veterans and their families.
"Many veterans and their families find themselves without a safe place to call home after bravely serving our country," said Kelly Caffarelli, president of the Home Depot Foundation. "Our mission is not only to repair and refurbish the homes and facilities where veterans live and receive services, but also to say 'thank you' for their sacrifices.