Ken Burns: De Blasio will settle 'Central Park Five' case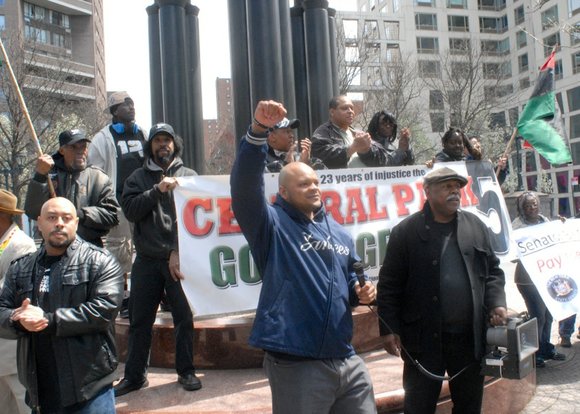 According to documentarian Ken Burns, New York City Mayor-Elect Bill de Blasio plans on settling the "Central Park Five" civil suit once and for all.
During a video chat with the Huffington Post on Tuesday, Burns said that he had gotten special word from the soon-to-be mayor that that the civil suit filed the men would soon come to a conclusion.
"Bill de Blasio, the mayor-elect, has agreed to settle this case," Burns told the Huffington Post on Tuesday. "And though this is justice delayed way too long and that is justice denied, [they] will not only be exonerated. But they will have justice, they will see some closure, they will be able to be made whole."
"I am feeling great; it seems like we can see the light at the end of the tunnel," Yusef Abdus Salaam, one of the Central Park Five, told the AmNews."But we have seen that light before, and it was [an] oncoming train coming to mow us down. But now I think this is wonderful because this process seems to be coming to an end."
"I have expectations that Mayor-elect Bill de Blasio and his administration will do what is right here in terms of crating the fertile climate for properly settling this lawsuit," Central Park Five co-counsel Michael Tarif Warren told the AmNews."It is a question of what must be done from a moral standpoint, where these young men, from being young boys, had their childhood snatched away from them as a result of being wrongfully convicted for a crime that they did not commit. And further insult—not only to our clients, but to the city as well—centers on the Bloomberg administration's insistence that the case be not properly settled. So not only do these young men and their families continue to suffer, but there is an economic burden placed on taxpayers as a result of the expenditure of $6 million to defend this lawsuit, and this should be an affront to all well-meaning New Yorkers."
In April of 1989, five young Black and Brown men were falsely accused of the brutal rape and assault of a white female jogger in Central Park. After confessions were coerced from the men, which were then recorded on video tape, the case made national headlines, furthering the story of a city that's "out of control" and introducing media-sensationalized terms like "wilding" to the public. The boys, Salaam, Antron McCray, Raymond Santana, Kharey Wise and Kevin Richardson, were referred to as a "wolf pack" in the media. After being convicted, the young men wouldn't be exonerated of their crimes until Matias Reyes confessed in 2002, well after their time was served.
During the promotion of his documentary "The Central Park Five" last November, Burns talked to the AmNews about how the media sold him on the story of how young Black and Brown boys were out of control.
"I bought it," Burns said to the AmNews. "I thought, what was happening to our cities? What happened? [New York state Gov. Mario Cuomo] was rubbing his hands and saying the cities were ungovernable. It just seemed to be symbolic of a decline. And then I noticed that when they were vindicated, when their sentences were vacated 13 years later, I noticed that the coverage was nothing, and my outrage began to boil. And my outrage has continued to boil for the last 10 years."