LICH resumes ambulance service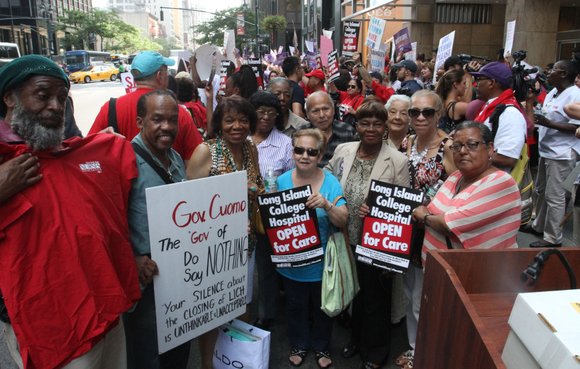 The ups and downs with the fight to keep Long Island College Hospital (LICH) continued last Friday. The hospital resumed ambulance service this afternoon but would only accept noncritical patients.
SUNY Downstate, which runs the hospital, told reporters that it would bring in doctors from other institutions to help with services and claimed that it's making every effort to maintain the current status quo.
The announcement came two days after SUNY Downstate stopped accepting ambulances and new patients.
"At the direction of the chancellor, SUNY is mustering resources, including using doctors from UHB and from other SUNY institutions across the state, with the goal of allowing for the safe and rapid resumption of BLS ambulances tomorrow," said SUNY Director of Communications David Doyle after the initial announcement. "The day-to-day situation at LICH remains fluid and will continue to be until there is clear resolution of the many complicated issues involving the future of the facility."
SUNY Downstate officials blamed a staffing shortage for the disruption and said they turned ambulances away to ensure it did not receive patients beyond its capabilities.
SUNY Downstate recently halted plans to lay off 500 LICH employees, signaling a temporary victory for workers fighting to keep the Cobble Hill-based institution from closing. During a recent hearing in Downtown Brooklyn, SUNY Downstate attorneys said that state Supreme Court Justice Carolyn Demarest didn't have the basis to reconsider her initial ruling to transfer LICH to SUNY Downstate.
"This transaction has been consummated and can't be undone," argued attorney for SUNY David Dunn. "You can't unscramble the omelet."
However, Mayor-elect Bill de Blasio attributed LICH still being open to the people who need it most.
"This hospital is still open for care because this community takes nothing for granted," said de Blasio in a recent statement. "These layoffs were another backdoor attempt at closing LICH, and SUNY presented them as a done deal. We knew better."