Nubian Society honors local heroes
Ollie Mcclean | 11/14/2013, 3:15 p.m.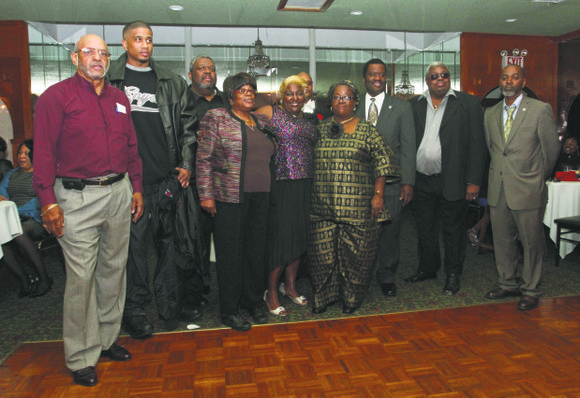 The Nubian Society is an organization of African-American New York City Transit workers that was established in 1981. Over the years, it has recognized organizations and individuals within local communities whose behind-the-scenes service has contributed to the betterment of the lives of residents of New York City and beyond. On Saturday, Nov. 9, the Nubian Society recognized unsung heroes at a lavish affair held at La Bella Vita in Ozone Park, N.Y.
This year's honorees were retired Department of Education principal and journalist Dr. Eulene Inniss; Dr. Arlene Allen, educator and president of the Kiwanis Club of Cambria Heights; Transit Superintendent Wanda Robinson; and Melvin R. Johnson, a retired captain from the New York City Department of Correction. Inniss also received a proclamation from Brooklyn Borough President Marty Markowitz, which was presented by Mable Robertson of the Association of Black Educators of New York, and recognition from fellow "guerrilla journalist" Milton Allimadi, publisher and CEO of Black Star News.
In the past, the Nubian Society has honored distinctive persons such as state Sen. and newly elected Brooklyn Borough President Eric Adams; Bronx Borough President Ruben Diaz; Queens Borough President Helen Marshall; City Councilman Albert Vann; political activist and actor Harry Belafonte; 100 Blacks in Law Enforcement; the Revs. C. Herbert Oliver and Herbert Daughtry; civil rights activists and more.

Nubian Society President Paul Waldon said, "The Nubian Society takes great pleasure in helping young children realize their dreams through outstanding educational opportunities; we award scholarships to high school seniors every year."
The Nubian Society is noted for seeking out those dedicated community workers who continue to invest in people while seeking nothing in return. Because of the organization's association with individuals and groups such as the Bedford-Stuyvesant Family Health Center, the Black Solidarity Education Committee, the Association of Black Educators of New York, the NAACP, Judge Robin Sheares, Oliver and others, folks say that it is obvious that the Nubian Society has established a partnership with other communities whose history of service extends nationwide. The Nubian Society is seen as a proven asset to the Transit Union.