2013 in Hip Hop
2013 was a year for hits and misses when it comes to hip hop. From Nicki Manaj to Kanye West, the year was defiantly filled with hit makers and innovators.
The AmNews recently sat down with Universal Def Jam Records' vice president of A&R and vice president of marketing and promoting Wise McGriff to weigh in on hip hop's biggest stars and give his predictions for 2014.
First up, K. Michelle. The R&B singer, known as a cast member on VH1's "Love and Hip Hop," released her debut album Rebellious Soul in August, which peaked at No. 1 on R&B Billboard charts and No. 2 on the Top 200. Recently winning the Best New Artist award at the Soul Train Awards, McGriff said K. Michelle is headed in the right direction.
"K. Michelle did a really great job and she's a nice young lady," he said. "She's very passionate with music and about how she feels. She defiantly stands out at a time when music is still male dominated. She holds her own."
As far as rappers, McGriff said while he loves the pioneers, he's got appreciation for rap's new generation including Kanye West, 2 Chainz and Rick Ross. But some other names come to mind in terms of those who are making an impact.
"Jadakiss, Fabolous, Ludacris, T.I. and Future are all doing well. Battle rappers are also starting to get more recognition like Murda Mook. A lot of the legendary rappers, like Kool Moe Dee, are back to show young people the proper way of doing things. Music has made more millionaires than the lotto. The NBA used to be the way out of the hood. Now, it's a good track."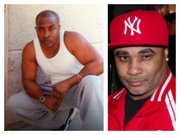 Catching many people's eyes was Nicki Minaj who is making a name for herself as one of hip hop's prominent female voices. Minaj became the most-charted female rapper in the history of the Billboard Hot 100 and got major exposure as an American Idol judge.
Minaj is set to release her third album in 2014 and McGriff said she's making her mark like many female rappers before her.
"Nicki Minaj reinvented Lil Kim and Foxy Brown," he said.

Of course, any discussion about hip hop in 2013 can't go without mentioning Lil Wayne. The 31-year-old rapper released his album in March titled I Am Not A Human Being II debuting at No. 2 on the Billboard 200.
Lil Wayne also made headlines in May after he released a song containing offensive lyrics about Emmett Till resulting in him being dropped as Mountain Dew's spokesperson. Lil Wayne released the fifth installment of the "Dedication" mixtape series in September, Dedication 5.
"Lil Wayne is still good based on his name," McGriff said. "But he needs to come back and reinvent himself."
As for 2014, McGriff said Busta Rhymes, Young Jeezy and TL (Top of the Line) are names we'll hear about. McGriff also mentions DMX, who caught the eyes of many fans in 2013 with his numerous television appearances coping with issues of drugs, alcohol and family issues.