Billy Strayhorn, Pacheco, Blythe Benefit, Tolliver Sistas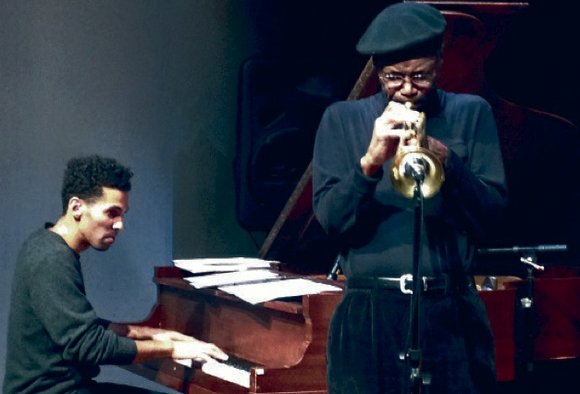 "Arthur is such a loved, respected and innovative spirit that the response from the music community has been overwhelming and quite touching," said Shepard. While he's slowly regaining strength, he needs financial support to pay bills and to get the help of a good neurologist. All proceeds from this event will go to Blythe. Admission is $15.
During his Columbia days, Blythe was the leader of two separate bands. The first was a free jazz-funk electric quintet with Stewart on tuba, cellist Abdul Wadud, drummer Bobby Battle and, occasionally, electric guitarists James "Blood" Ulmer and Bell. The second was an acoustic jazz quartet, which included bassist Fred Hopkins, drummer Steve McCall and pianist Stanley Cowell. Blythe was a member of the Leaders with Lester Bowie, Chico Freeman, Don Moye, Kirk Lightsey and Cecil McBee. In 1990, he became a member of the World Saxophone Quartet along with original members Lake, Hamiet Bluiett and David Murray.
For more information, contact Shepard at 617-417-3601 or email tjazz11@gmail.com. You can watch it live streamed at live.shapeshifterlab.com.
Charles Tolliver's inventive compositions for big bands and smaller configurations, along with his subtle, hard-hitting riffs, are what make him one of today's brilliant jazz trumpeters. On Nov. 23, Tolliver and his barn-blazing young quintet—pianist Theo Hill, guitarist Bruce Edwards, bassist Devin Starks and drummer E.J. Strickland—will perform sets at 9 p.m. and 10:30 p.m. at Sistas' Place, 456 Nostrand Ave., Brooklyn.
Tolliver's reputation as a trumpeter and composer precedes him from his debut recording and stint with Jackie McLean (Blue Note Records), to having chairs in the bands of Roy Haynes, Willie Bobo, Sonny Rollins, Max Roach and in the Gerald Wilson Orchestra. In 1971, he and Stanley Cowell founded Strata-East Records.
Tolliver features a group of musicians who are performing as one intuitive body. They are playing in the moment under the leadership of the master. They swing and bop, and they're smooth on ballads. This is one of the best quintets in today's jazz scene. Very few groups today feature the guitar offering up another voice perspective.
"I have been playing at Sistas' for over 10 years," said Tolliver. "[Owner] Viola Plummer is a hero. I always like to play there."
Tickets are $25. For reservations, call 718-398-1766.