City College student protestors supported in court
Amity Paye | 11/21/2013, 3:09 p.m.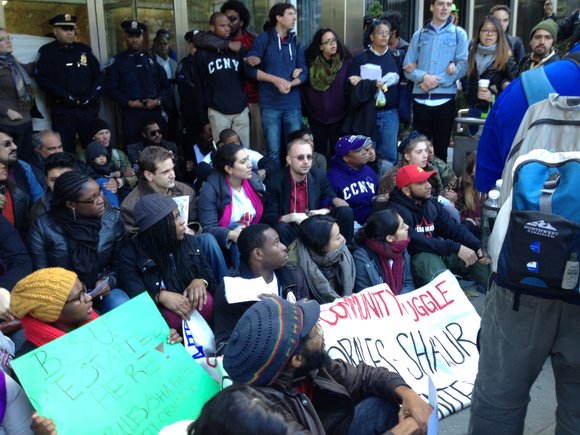 About 100 supporters—including PSC members, Harlem community organizers and recent student protestors from the New School and Cooper Union—turned out at the 100 Centre St. courthouse for Vasquez and Sourov's arraignment hearing on Tuesday. They packed the courtroom as Sourov was charged with seven counts and Vasquez was charged with six. These included several counts for criminal mischief, interfering with government administration, inciting a riot and attempting assault. Vasquez and Sourov's trial has been set for Jan. 9, and they now each face up to a year in prison.
Channeling Bill de Blasio's "tale of two cities" argument, protestors explained that there were two visions for CCNY: that of the administration, which was equated to militarization and a capitalist class, and that of the school's working-class students.
"There are two paths for CUNY," said Vasquez, "the path of militarization, and the other … the path of a community-run CUNY."
In the 1960s and 1980s, CUNY students went on strike, shutting down various campuses and demanding changes in the policy and practices of the administration that served them. Each time, many of the initial organizers came right out of CCNY. Now community members are recalling this legacy of dissent and joining students in their call for a modern shutdown of CCNY on Dec. 5.

"No Center, no peace," chanted protestors.
Upcoming protests and meetings:
Friday, Nov. 22, 9:30 a.m.: Vasquez and Sourov disciplinary hearing at CCNY.
Saturday, Nov. 23, 10 a.m. to 12 p.m.: Morales/Shakur Community and Student Center
Coordinating Committee and general membership meeting at the National Black Theatre of Harlem. For more information, call 212-726-2301.
Monday, Nov. 25th, 4 p.m.: Board of trustees meeting at Baruch College, where the Policy on Expressive Activity is expected to be discussed.
Thursday, Jan. 9, 2014: Vasquez and Sourov trial