De Blasio thanks voters at National Action Network
Herb Boyd | 11/21/2013, 2:45 p.m.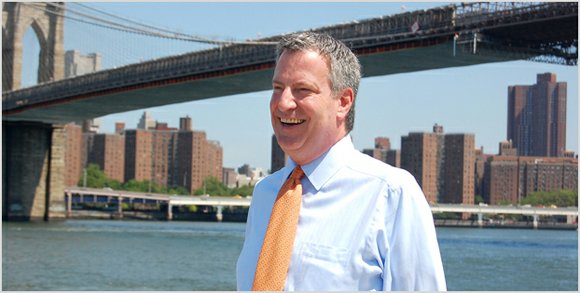 On the inside of the National Action Network (NAN) headquarters last Saturday, Mayor-elect Bill de Blasio was effusive in his gratitude for those who voted for him, thanking them again and again for their support and promising to continue to put forth a "progressive and aggressive agenda."
"It's a new day," de Blasio declared. "I will be in touch with the people … and I want you to stay with me in Albany … and with your help, we will make this a city for everyone again."
Along with the Rev. Al Sharpton, he was joined on the platform by newly elected Public Advocate Letitia James; incoming Brooklyn District Attorney Ken Thompson; and soon–to–be City Comptroller Scott Stringer.
But on the outside of NAN, with reporters badgering him about stop-and-frisk, the mayor-elect said that he had "cleared the air" with Police Commissioner Ray Kelly. "It was a good conversation, and we cleared the air and we're moving forward," he said without discussing any specifics.
During his campaign, de Blasio made it patently clear that he would not retain Kelly as commissioner, with the central issue being the policy of stop-and-frisk, which has become the hallmark of Kelly's tenure. Back inside NAN, de Blasio had some stronger words about stop-and-frisk and stressed his determination to reform the policy.
"If you believe that our young men of color should be respected and celebrated and not treated like suspects, even when they've done nothing wrong, then you'll be with me," he said to loud applause.
It may not have been his most inspiring speech, but his mere presence was enough to gratify many of those in attendance. And when he took time to help a wheelchair-bound NAN regular exit from the toilet and then posed with him for a photograph, he expressed the kind of humanity that has come to characterize his political ascendancy.
After 12 years of Mayor Michael Bloomberg, many of those listening to de Blasio's promises hope that it isn't just empty rhetoric, particularly when it comes to the problem of affordable housing. "If you believe that people should be given every chance to keep living in the neighborhoods they love, then you'll be with me when I say to the real estate industry, 'It's a new day, and we're going to require that you increase your affordable housing.'
"Progressive change has not been easy," de Blasio repeated, "and you shouldn't be surprised by this … but I need you to make your voices heard."
The loud cheers at the end of his short speech were an indication of the voices he'll need to hear all the way to Albany.