More trouble for President Obama
Herb Boyd | 11/21/2013, 3:35 p.m.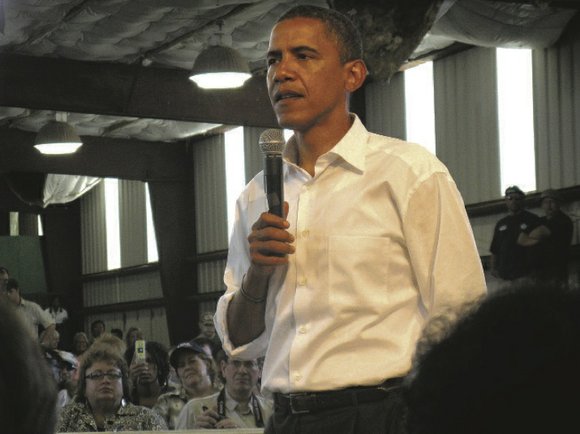 Already caught in the throes of a series of mea culpas and a health care act that is sputtering along, to say nothing of the Republican governors unwilling to expand Medicaid in order to receive federal subsidies, President Barack Obama woke up Wednesday morning to more bad news: His approval rating reached the lowest since he took office.
A recent CBS News poll says the president's disapproval rating is 57 percent, and only 37 percent approve of his job performance—a 9 percent decline since October. The Affordable Care Act was also spiraling downward, dropping to a 31 percent approval rating, registering a drop of 12 points.
It goes without saying that Republicans unanimously disapprove of the Affordable Care Act, and more disturbing, they are joined by two-thirds of independents. Even among staunch Democratic loyalists, the president has experienced some problems with a 16 point drop, though 60 percent of Democrats continue to support him.
While Obama has apologized for the snafu that continues to plague the website healthcare.gov and has promised to get the system up and running near the end of the month, a third of Americans, according to the poll, say they are not confident that it will be fixed by the Dec. 1 deadline. A mere 7 percent of Americans think the Affordable Care Act is sufficiently working and should be maintained; 43 percent feel it should be repealed.
Obama, like other two-term presidents, is not faring well at all. When compared to George W. Bush, the poll indicates that Obama is just about even with him on approval, and his numbers are well below Clinton's (58 percent) and Reagan's (65 percent) at this stage of his second term.
When those polled were asked about Obama's honesty, 49 percent believed he could be trusted. That's an 11 percent falloff from the rating he received during last fall's election campaign.
There is no need to ask this question of Republicans and Democrats, all of whom vote along partisan lines. However, among independents, Obama's trustworthiness is mixed, with 43 percent who think he's honest and 53 percent who don't believe he is.
If there's any solace for the aggrieved president, it's in the ratings received by both parties in Congress. "Just 26 percent of Americans approve of how the Democrats in Congress are doing their job, down five points from last month, and the party's lowest approval measure since January 2012," according to the poll.