Remembering Daesean Hill shooting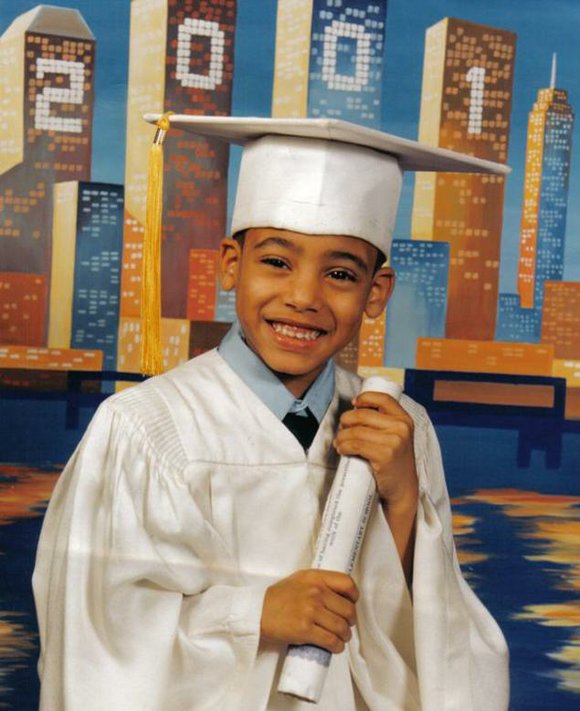 Balloons sailed into the Sunday night sky at the corner of Sutter Avenue and Hendrix Street, now also known as Daesean Hill Drive. It has been 10 years since 8-year-old Daesean Hill was slain by a stray bullet as he walked home from his East New York school with his stepfather and younger siblings.
Hundreds went to Hill's funeral. New York City was awash with tears and frustration. Out of that pain, East New York activist Andre T. Mitchell formed the community advocacy group Man Up! Inc. Commemorating their anniversary and commiserating the exact 10-year anniversary of Hill's killing, on Nov. 17, the organization gathered at their headquarters at 530 Sutter Ave. and then moved further down to Daesean Drive to release the symbolic balloons.
"The balloons have powerful meaning for us," Mitchell told the Amsterdam News. "Orange symbolizes peace that we want in our communities; green represents life and prosperity; white is the recognition of all the lives that have been lost through the years; and black represents the power of the people."
In 2003, Hill was walking home from his East New York school with his stepfather, Stelly Chisolm, and his 5-year-old brother and 3-year-old sister when he was fatally hit in the crossfire between individuals caught up in a drug dispute on Hendrix Street.
Hill was struck by bullets in the chest and wrist. Suspected drug dealer Michael Walker, 23, was also killed.
Hill was eulogized as a "shining light" at Ponce Funeral Home in East New York, and the Rev. Herbert Daughtry of House of the Lord pleaded to purveyors of reckless gun violence to pack it in. "Daesean has made an impact, and some of us who may live to be 80 may never do that. If we could vow here today that this business is going to stop in Daesean's memory, y'all could have a new community."
Three people were convicted in his death: Jahbir Fowlem, 26, was sentenced to seven and a half to 15 years; co-defendant Lawrence Malik, 18, was sentenced to 13 years in a plea deal; and Jarrell Perry, 20, got a 15-year term.
Man Up! Inc. states that after the death of Hill in November 2003, and after the release of the shockingly high Black male unemployment report in February 2004, "an emergency meeting of like-minded men was corralled by our founder, brother A.T. Mitchell, to discuss and create immediate solutions that would combat both of these community problems."
Man Up! says that its original meetings produced community patrols that had local volunteers walking through the neighborhood, talking and listening to residents, "especially the youth in order to listen to them and to come up with ways to solve our neighborhood problems."
Now a hearty, problem-solving, community-advocating resource and safe haven for youth in East New York, Man Up! has become a statewide and nationally recognized organization of violence interpreters and peacekeepers.
"I never met Daesean, but I feel that I know him through the work he has inspired us to do," said Mitchell. "There is no other organization that does all that we do." We service our community through after-school, summer day camp, employment readiness, mentoring, sports, recreational and advocacy programs.