Harlem center feeds community's needs for Thanksgiving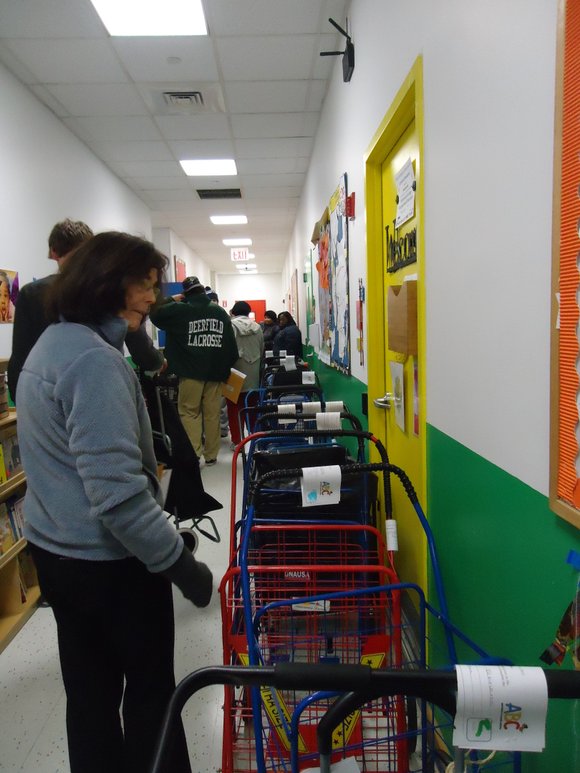 The economy has left citizens vulnerable, and no group of people have felt more vulnerable than those who were already working-class and poor. The Association to Benefit Children (ABC), an organization that traffics in serving the economically disadvantaged, held its annual "Turkey Day" at its East Harlem location. With families lined up outside of the building with shopping carts, ABC used the day as an opportunity to make sure its clientele had a meal for Thanksgiving and to help provide an assessment of what it can do to better serve them.
Gretchen Buchenholz, the executive director of ABC, spoke with the AmNews about the necessity of a program of this nature.
"What we see on a daily basis … the number has grown," said Buchenholz. "And it continued to grow even as we hear that unemployment is down. What we're seeing in this community is increased poverty … increased hunger … increased unemployment."
Volunteers from as far as Connecticut made their way to ABC to help with the annual event, but Turkey Day is much more than just food pantry business. ABC provides youth, education and family programs, supportive housing, and preventative and mental health services. So in order to figure out how to make those services better, ABC workers and volunteers had those in line take online surveys when they walked in.
"We started talking about a month ago," said Buchenholz. The organization met at its central location—it have five locations in total—to figure out logistics, including the rooms that would be used to stock food and hold survey assessments. There were people such as those who spoke Spanish or who were social workers who were asked to work the later shifts during the day.
"It's kind of like putting together a Thanksgiving meal," Buchenholz said.
And while the assessments are necessary, the fact that a family goes home with a shopping cart full of food moved Buchenholz to tears. When the AmNews asked her how much it meant to her, she didn't hold back.
"That's a good feeling. It's so simple. It's so human," said Buchenholz. "What's particularly touching and moving to me is how warm and friendly all of the people are on the line. I go up and down the line and talk to people, and everybody I've encountered is so kind to one another.
"It's not a situation where I have and they don't have," she continued. "It's a situation where we do this in partnership. It's great that we have this flexibility. We're a human place."
The word that you heard most when talking to the people who volunteered or received shopping carts of food was "blessing." Victoria Lopez was one of those thankful recipients. Working with a translator, Lopez told the AmNews in Spanish how important it was to have an organization like ABC in the neighborhood.
"This program is not only a benefit to the children, it's a benefit to the parents as well," said Lopez. "In the beginning, I was seeking help and I found this program. My child was having separating issues with me and ABC's programs have helped her cope better. I think that it's a blessing that this program is here in the neighborhood."