Swing Street forever
11/28/2013, 6 a.m.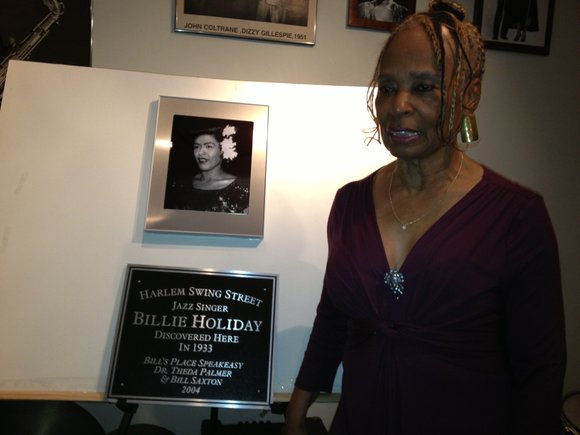 Harlem, known in some circles as "the Black cultural capital of the world," is consistently losing its Black flair and cultural identity to the giant bites of gentrification, and landmarks that should be recognized go unnoticed and are too often forgotten.
Bill's Place, the cozy jazz spot at 148 W. 133rd St. (between Adam Clayton Powell Boulevard and Lenox Avenue), is holding down the block's old reputation as being "Swing Street." Every weekend, the brownstone is filled with jazz lovers—both tourists and Harlem residents—as its owner, saxophonist and composer Bill Saxton performs with his All-Star Quartet.
Most recently, Bill's Place was filled to capacity as Saxton's wife, Theda Palmer Saxton, unveiled a plaque acknowledging the brownstone as a historical cultural site and the place where Billie Holiday got her start. During the early 1920s until the repeal of prohibition, this site was a speakeasy.
Originally, the ground floor of this four-story townhouse was a popular restaurant called Tillie's Place, owned by Tillie Fripp. Her chicken and waffles became just as popular as the jazz performances she was serving up. One of those performers included a young lady named Billie Holiday.
When Fripp sold the place, the new owner called it Covan's, and live jazz became a hot commodity, with Holiday and house pianist Willie "The Lion" Smith performing.
Rather than wait for the Landmark and Historical Societies to give the building landmark status, Theda Palmer Saxton took the responsibility to anoint the building. "Rather than stand around and wait, we have to create our own pyramids," she said. "When I first saw this place, I felt it was destiny. When we purchased the building, it was a wreck, but there was a spiritual thing going on that had me by the throat."
The Saxtons didn't realize they owned a piece of Black cultural history until two years later. Conversely, the saxophonist had already known upon purchasing the building that he wanted to have live music and music instruction in the establishment. His wife, an author, educator and sponsor of Friends of Frederick Douglass Creative Arts Center, was set on a writing program. "The greatest musicians and writers all passed through this site and block, so we had to share this site with the community and world," she said.
While collecting all the tidbits and facts about Swing Street for a Bill's Place brochure, Theda Palmer Saxton quickly realized she had a book in development, which turned into "Heirs to Dirty Linen and Harlem Ghosts," published by Balboa Press (2013). This book is a must-read for anyone interested in the history of Harlem when it was really jumping.
Swing Street started with the Nest in 1923 at 169 W. 133rd St. The noted choreographer of African dance LaRocque Bey purchased the building in the 1960s; it has since met the wrecking ball and is slated for a new appearance as a condominium.
The success of Tillie's and the Nest led to the opening of Edith's Clam House at 146 W. 133rd St., right next door to Bill's Place, in October 1928. Duke Ellington's favorite was Mexico's, a popular musicians' hangout located at 154 W. 133rd St., and next door at 152 W. 133rd St. was Basement Brownie's. Pod's and Jerry's was a few doors down.