'12 Years a Slave' triumphs at Toronto Film Fest
LOREN KING | 10/3/2013, 12:47 p.m.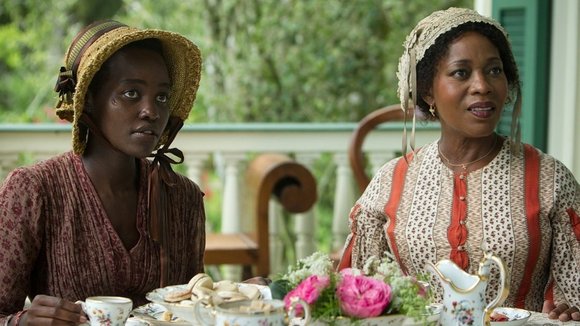 It's hard not to notice that "12 Years a Slave," arguably the greatest depiction of the American sin of slavey, comes courtesy of British filmmakers with roots all over the world. London-born director Steve McQueen's family is from the Caribbean; the film's star, Chiwetel Ejiofor, was born in London to Nigerian parents. Co-stars Lupita Nyong'o and Adepero Oduye hail from Africa.
"There is no part of the road that isn't touched. We are all children of the diaspora," said Oscar-nominated actress Alfre Woodard, who describes herself as a descendant of Southern sharecroppers and who plays Mistress Harriet Shaw in the film.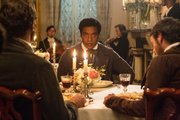 "12 Years a Slave," which won the Audience Award at the recent Toronto International Film Festival (TIFF), is based on the 1853 autobiography by Solomon Northup.
Northup (Ejiofor) is a free man and violinist living a genteel life with his family in upstate New York in 1841 when he meets a pair of circus performers who hire him to play for their act. But they turn out to be con men who kidnap Northup and sell him into slavery. He's shipped into the Deep South, where he endures a nightmare of brutality and inhumanity, mostly at the hands of a slave owner named Edwin Epps (Michael Fassbender). Northup is an educated, compassionate man forced to hide his intelligence and his compassion and use his wits to survive.
"I liked the idea of a free man who gets incarcerated. By doing that, the audience participates in the journey. I hooked up with John Ridley, who wrote the script. My wife had found this book and as soon as it was in my hands, I knew—it was a revelation with each turn of the page," said McQueen in an interview at the TIFF. His past films include "Hunger" (2008) with his go-to actor Fassbender as IRA hunger striker Bobby Sands, and "Shame" (2011), in which Fassbender portrays a man with a sex addiction.
Shot in Louisiana, McQueen's unflinching depiction of plantation life does for slavery what "Schindler's List" did for the Holocaust. He says that American audiences just might be ready to take such a hard look into this history. "America has a Black president. There's the unfortunate situation with Trayvon Martin, and it's also the anniversary of the March on Washington. With that perfect storm, people are ready to receive and look and reflect on the past when maybe before they were not," he said.
It is an understatement to say that McQueen asked a lot of his actors. "12 Years a Slave" is so gripping and disturbing that even though you want to look away, you can't take your eyes off the screen. But the director was characteristically blunt when asked how he got his stellar ensemble to trust him. "That's what actors do. That's their job. You just do it," he said. "Do the job, do a good job. End of story."
Ejiofor, whose stirring performance as Northup earned him Oscar frontrunner status, said that he approached the job by reading Northup's book. "It's extraordinary; it's a gift with such real insight. It should be in every school. I was primarily taken with that, to get underneath Solomon's skin and find how he was able to survive something like this with his brain intact."