Robert E. Cornegy wins testy race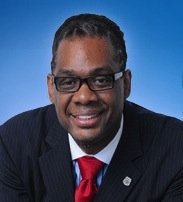 The People's Republic of Brooklyn is rejoicing over a win-win political fight. If he is able to defeat his little-known Republican challenger in the heavily Democratic Bed-Stuy/Crown Heights area, Robert E. Cornegy is poised to become the city councilman for the 36th District.
To hear Cornegy's supporters tell it, it's all over except the glad-handing, rhetoric-repeating and the urging of folks to take themselves to the polls on Nov. 5 and vote.
"The arduous task of a recount has now been completed, and Robert E. Cornegy Jr. has been certified as the Democratic nominee for the 36th District of the New York City Council," said Manny Burgos, chief strategist for the Cornegy campaign.
Cornegy, the jubilant 6-foot-10 winner of the Democratic primary, will now run against Republican Veronica Thompson in November's general election. The much-sought-after prize and the focus of 17 days of vitriolic verbal back-and-forth is the stomping ground of 39-year political veteran Al Vann. Kirsten John Foy had been the lone surviving opponent in the one-time five-man race. With a hundred or so votes being the difference between him and Cornegy, Foy had vehemently refused to accept the slim-margin defeat.
But this week, Burgos stated, "As per state election law, the recount was triggered automatically when after the first count of machine totals and paper ballots, the total between the top two candidates was under the 5 percent threshold required for a candidate to be certified as the winner. With that task completed, today the Board of Elections moved to immediately certify the election."
"I am deeply humbled and honored to represent the Democrats of the 36th District in the upcoming November General Election. I want to thank God, my family—especially my wife and children—my supporters, and most of all the voters of the district for making this possible," stated an emotional Cornegy. "I wish my opponents the very best in their future plans, and look forward to the upcoming general election."
Foy finally conceded, having previously vigorously contested the result, demanding that 1,000 Board of Elections-disqualified votes be counted. He had threatened court action; however, on Monday, he issued a statement saying, "I have decided not to move forward with a legal challenge to address Board of Elections irregularities and to ensure every vote is counted in this race. While I still feel strongly that every eligible voter who came out to cast a ballot should have their vote counted and not thrown out because of a mistake by the Board of Elections, the resources required to pursue such legal recourse make the endeavor prohibitive.
"The administration of this election by the Board of Elections has been an absolute failure—from the numbers of broken voting machines in Bedford-Stuyvesant alone to its handling of the vote-counting process after election day. It is unacceptable for the foundation of our democracy to be so poorly run—disenfranchising voters by not counting their votes and lacking accountability. It is a textbook example of why reform of the Board of Elections is needed."