Talking SCHOP! A recipe return
10/3/2013, 4:02 p.m.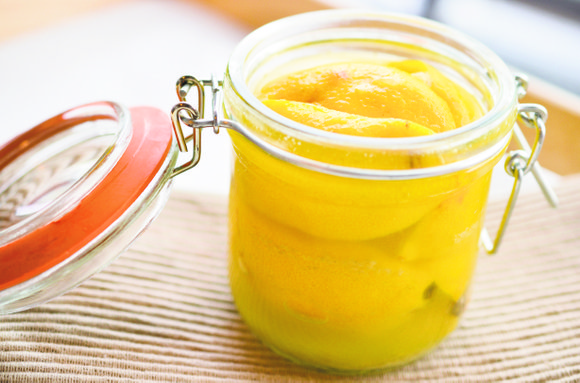 I have been going on about all that is happening in and around Harlem for a while. There is so much! And with food festival season upon us, there will be little time to talk recipes. So here are just a few of some of the recipes that have caught my attention for your review use and files.
If you have ever had and tried to cook Moroccan or Middle Eastern foods, you know about the beauty of preserved lemon. With just a little bit, you can transform a dish into something magical. Yes, we can buy it, but to make it is empowering and very affordable.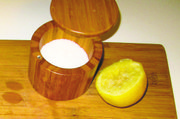 Preserved Lemon
Ingrediants
2 1/2 cups fresh lemon juice (from about 18 lemons)

16 juiced lemon halves (from 8 lemons)

1 1/4 cups kosher salt
A few pinches of saffron
Fennel seeds (optional)

Whole black peppercorns

Dried bay leaves
Set the 16 juiced lemon halves on a cutting board and pack each one with salt. You'll have some salt left over. (Save it; you'll need it in step two.) Place the lemons in an eight-cup/half-gallon jar, cut side pressed against the glass. As you layer the lemons, sprinkle in saffron, fennel seeds, black peppercorns and a bay leaf or two.
Pour the lemon juice over the salt-packed lemons (they should be completely submerged in juice or they will get moldy) and add any remaining salt. Cover securely, then give the jar a light shake.
Let the lemons sit at room temperature for at least two weeks and up to three weeks before using. Once the jar is open, store in the refrigerator for up to six months. To use the preserved lemon, rinse it under cool water, scoop out and discard the pulp, and use the preserved rind.
Makes two quarts (eight cups) preserved lemons.
Now, to use those preserved lemons, here is a basic recipe for chicken tagine with couscous: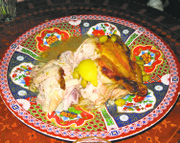 The Tagine:
ingredients
1/4 cup extra-virgin olive oil
1 large chicken (about three pounds), cut into eight pieces
Kosher salt and freshly ground black pepper
15 cipollini onions, blanched and peeled
2 garlic cloves, peeled and thinly sliced
1/2-inch piece ginger, finely chopped
1 cup chicken stock or canned low-sodium broth
1 teaspoon ground cumin
1/4 teaspoon saffron
1/2 cup picholine olives, pitted
1/4 cup flat-leaf parsley, chopped
1/2 preserved lemon, seeded and chopped
Preheat the oven to 350
degrees.
Place a tagine or heavy-bottom cast-iron pot over medium-heat heat and add the olive oil. Season the chicken liberally with salt and pepper. Working in batches, sear the chicken in the pot until deep golden brown on all sides, five to six minutes total. Reserve seared chicken on a plate.
Add the onions to the pot and cook, stirring occasionally, until light golden brown,three to four minutes. Add the garlic and ginger to the pot and continue cooking, until aromatic, about two minutes. Add the stock, cumin and saffron to the pot; bring the liquid to a boil. Return the chicken to the pot along with any juices that accumulated while it rested.
Cover the tagine or pot with a tight-fitting lid and bake until the chicken has cooked through, about 15 minutes. The chicken can also be simmered over medium-low heat on the stovetop for the same amount of time until cooked through.
When the chicken has cooked through, add the olives, parsley and lemons to the pot. Reserve warm over low heat until ready to serve.