'Captain Phillips' is taut, exciting, humanizing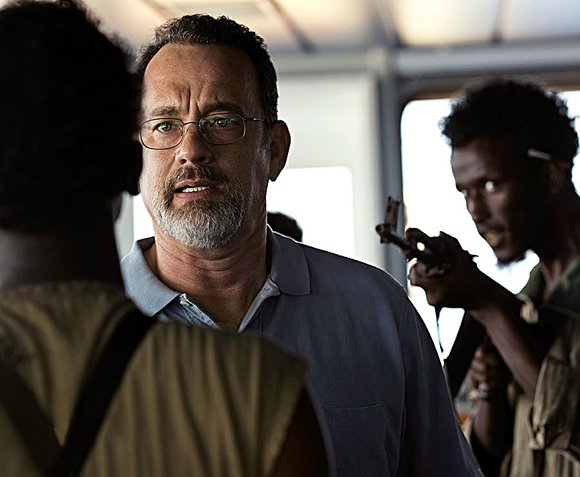 "Captain Phillips," starring two-time Academy Award winner Tom Hanks in the title role, examines the 2009 hijacking of the Maersk Alabama cargo ship by four Somali pirates.
Phillips saves his crew by offering himself as ransom, and for five grueling days, he's trapped aboard a cramped 18-feet-long boat, running out of fresh water and baking under the African sun.
Director Paul Greengrass is a masterful guide, delivering a taunt and exciting cinematic adventure while keeping the essence of the story intact. It's tough because this harrowing adventure is true. The strong performances, masterfully achieved under his direction, make it almost impossible to deliver snap moral judgements.
"Captain Phillips" doesn't take sides and isn't influenced by the David-versus-Goliath propaganda. The filmmakers are much smarter, and the film doesn't make light of being caught inside a loop of constant misery and brutality.
"Remarkable" is the best word with which to describe the performances by the four Somali actors (Barkhad Abdi, Faysal Ahmed, Barkhad Abdirahman and Mahat M. Ali). The hope is they won't disappear into the cinematic wasteland that is littered with Black talent.
Somali piracy is largely caused by the depletion of fish in their waters. While the country was being ravaged by civil war in 1991, after the European Union tightened fishing regulations, fishing fleets were driven into new hunting grounds, and an influx of illegal commercial fishing hit the war-torn country.
The outrage at the loss of commerce and vital source of nourishment gave birth to Somali piracy. Former fishermen, who were suddenly faced with starving families, were forced into hijacking cargo ships for ransom money. Kidnapping for ransom is a big business that's run by organized crime syndicates and backed by financiers in Africa, Europe and North America.
"Isn't there any other way to make a living besides fishing and kidnapping?" the tired captain earnestly asks the desperate Somalians in the film. "Maybe in America" is the simple response.
The claustrophobic feeling of the ships, set against the immense depth and width of the ocean, delivers such a sense of place, vulnerability and timelessness—it's humbling.
Truth moves at uncomfortable speeds, but "Captain Phillips," under Greengrass' steely command, will safely navigate you through the unknown without a pithy salute to the red, white and blue. If the film has a position, it is advocating for humanity, and if I were to take a side, it would be for life.
"Captain Phillips" is rated PG-13. The film is opens Oct. 11.