Charles Hynes upsets District Attorney race, running as a Republican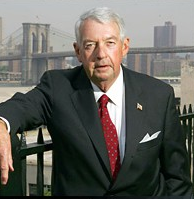 Oh oh! District Attorney Charles Hynes has thrown down the gauntlet. No matter what else you can call it, New York politics is never boring.
Just as swiftly as Hynes assured Brooklyn and fellow Democrat presumed D.A.-elect Ken Thompson that he would do all that he could to ensure a smooth transition into the office, he announced officially on Tuesday that he is getting back in into the race he conceded a month ago and will in fact run as a Republican. Brooklynites, being the no-holds-barred characters they tend to be, had a few choice words about the stunning move, most of which can not be published here.
"Hynes must go! Hynes must go!" yelled a handful of protestors as he made his official announcement at Jay Street Borough Hall on Tuesday.
"It's sad that Mr. Hynes refuses to accept the will of the people, as he repeatedly pledged to do last month after he lost the election by a wide margin," said James Freedland, a spokesman for the Thompson campaign. "We look forward to a clear contrast between Democrat Ken Thompson and the failed record of Republican Joe Hynes, who has lied to the public so that he can run with Joe Lhota and the tea party forces in the Republican Party who have shut down the government. And we are confident all of Brooklyn's voters will render the same overwhelming verdict as they did in the primary."
"How is Hynes a Democrat for nearly 30 years, then he sees this Black man about to win his seat, and suddenly he says he is running as a Republican and gets back into a race four weeks after he left it?" These were the words of a politicking street corner grandfather on Nostrand Avenue and Fulton Street this past Saturday afternoon.
Now, former prosecutor and current attorney Thompson finds himself smack-dab in the middle of another race against the 78-year-old, six-term D.A. Hynes. On Sept. 10, Thompson scored a shocking and historic upset victory in the Democratic primary when he trounced 24-year incumbent Hynes in the race for Brooklyn district attorney. Thompson defeated Hynes 55 percent to 44 percent. It was a sound beating, and Thompson became the first African-American and the first candidate to unseat an incumbent Brooklyn district attorney in over 100 years.
On primary night as he conceded, a humbled Hynes said from the podium, "I've just spoken to Ken Thompson. I wished him great success. I told him I would work with him on an orderly and a good transition."
To the incredulous gasps of many, four weeks later, Hynes is now back in the fray, pinning a long-shot hope on a Republican and conservative line run. He has declared that he based his decision to re-enter the race on his belief that Thompson got campaign help from Clarence Norman Jr., the former Brooklyn Democratic Party head who Hynes sent to prison for allegedly selling judgeships and misappropriating funds.

Hynes opined, "I don't think the people of Brooklyn want a D.A. who is beholden to a corrupt, machine boss ex-con."