Imhotep's guide to black events Oct. 27 - 23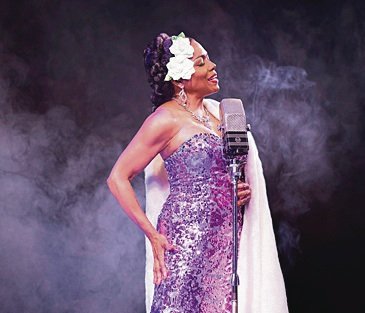 Greetings! This GBE Black Arts Month weekend, Circle of Sisters, the largest expo for women of color in New York City, is back on Oct. 19 and Oct. 20 at the Jacob Javits Center, located at 34th Street and 11th Avenue. Circle of Sisters will feature Steve Harvey, the Rev. Al Sharpton, life-changing seminars with Iyanla Vanzant and a special New York State of Health seminar on the Affordable Care Act (Obamacare) hosted by yours truly, Imhotep Gary Byrd. Enjoy the McDonald's Gospelfest 2014 Gospel Explosion concert, a special worship service with WLIB's Bishop Hezekiah Walker, and a live R&B concert featuring Keyshia Cole, Eric Benet, Amel Larreiux and more. For more information, visit wbls.com and wlib.com.
Theater
In "A Time to Kill," Rupert Holmes revisits John Grisham's 1989 legal story on race and justice. In the story, an African-American defendant (John Douglas Thompson) is threatened with capital punishment for the murder of white rapists. He is defended by a white lawyer (Sebastian Arcelus). It is running now through Dec. 31 at the John Golden Theatre, 252 W. 45th St., between Seventh and Eighth avenues. For tickets and information, call 212-239-6200 or visit atimetokillonbroadway.com.
"Motown: The Musical," with book by Berry Gordy Jr. and featuring 2013 Tony nominee Valisia LeKae as Diana Ross, Tony nominee Charl Brown as Smokey Robinson and Brandon Dixon as Berry Gordy, is now playing at the Lunt-Fontanne Theatre, 205 W. 46th St. (between Eighth Avenue and Broadway). For tickets, visit ticketmaster.com or motownthemusical.com.
"Platanos, Collard Greens & Callaloo." That's right, "callaloo!" This hilarious remix of the successful franchise brings the West Indian brethren in. Shaila Scott of WBLS-FM will host a "Girl's Night Out" on Saturday, Oct. 26 at the Baruch Performing Arts Center, 55 Lexington Ave. (enter on 25th Street between Lexington and Third avenues). For more information, call TheaterMania at 212-352-3101, or visit theatermania.com or plantanosandcollardgreens.com.
"Lady Day: The Billie Holiday Musical," featuring Dee Dee Bridgewater and written and directed by Stephen Stahl, is running at the Little Shubert Theatre, 422 W. 42nd St. between Ninth and 10th avenues. For tickets, call 212-239-6200 or visit telecharge.com or ladydaythemusical.com.
Music
Multiple Grammy Award winner Gladys Knight returns to the NYCB Theatre at Westbury on Friday, Oct. 18 at 8 p.m. Special guests Mint Condition will also be on the bill. NYCB Theatre at Westbury is located at 960 Brush Hollow Road, Westbury, N.Y. For more information, visit westbury-theatre.com.
John Legend performs at the Beacon Theatre on Monday, Oct. 29 and Tuesday, Oct. 29. For tickets, visit beacontheatre.com.
Dance
The famous Apollo Theater presents the world premiere of its new production, "James Brown: Get on the Good Foot—A Celebration in Dance," on Oct. 22 at 8 p.m., with follow-up performances on Oct. 25 and Oct. 26 at 8 p.m. Tickets are available at the Apollo Theater box office. For tickets, call 212-531-5305 or purchase them in person at 253 W. 125th St. You can also purchase them through Ticketmaster by calling 800-745-3000 or visiting ticketmaster.com. You can also visit apollotheater.org for more information.