Former Brooklyn politician Major Owens dies at 77
10/22/2013, 12:12 p.m.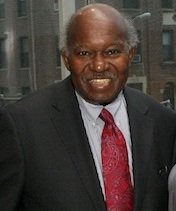 Longtime Brooklyn politician Major Owens has died. The family of the former Congressman and State Senator is reporting that Owens died Monday of kidney failure. He was 77.
"Tonight, at 8:03 pm, the brave heart of Congressman Major Owens stopped and he joined the ancestors," his son, politician Chris, said.
Owens is remembered for his political leadership in Brooklyn succeeding Congresswoman Shirley Chisholm, the nation's first African American women elected to Congress. He represented Brownsville, Crown Heights, Flatbush and East Flatbush during his years as an elected official.
Beginning his political career in 1974, he was elected to the New York State Senate representing the state's 11th District in Brooklyn. Owens was elected to U.S. Congress in 1982. He is credited with passing the Americans with Disabilities Act of 1990 that prohibits discrimination based on disability.
Originally from Collierville, Tenn., Owens earned his bachelor's degree from the all-male, historically Black Morehouse College and a masters degree from Atlanta University. During his later years he served as a faculty member in the Department of Public Administration at Medgar Evers College.
Owens is survived by his wife, Maria Owens and five children and eight grandchildren. He was the father to actor Geoffery Owens, who is best known for playing Elvin on the long-running sitcom The Cosby Show.
Funeral arrangements have not yet been announced. Cards may be sent to The Owens Family, 135 Eastern Parkway, Brooklyn, NY 11238.
Elected officials share reflections on Owens' passing
Council Member Letita "Tish" James: "Congressman Owens' commitment to working people in our city was remarkable; as were his accomplishments on behalf of his diverse district in Brooklyn. His legacy— from helping to develop social assistance programs under Mayor John Lindsay, to helping to pass the Americans with Disabilities Act in Congress— lives on. Even after leaving the House of Representatives, Congressman Owens never stopped serving— teaching as a professor at Medgar Evers College. Our city and our country have been changed for the better because of Congressman Owens' service. May he rest in peace."
Brooklyn Borough President Marty Markowitz: "Congressman Major Owens was an intellectual giant in public service and a true believer that government exists to advance the quality of life for its residents. He will be dearly missed by all Brooklynites, especially those who were fortunate enough to benefit from his leadership. Jamie and I extend our condolences to the entire Owens family."
Council Member Jumaane Williams: "Last evening, I learned that Congressman Major Owens, a man who helped paved the way as one of the first African Americans elected to Congress to represent the people of East Flatbush, Flatbush, Crown Heights, Brownsville and Park Slope, passed away. Having succeeded Congresswoman Shirley Chisholm, Owens proudly represented the people of Brooklyn for twenty-four years. My prayers for peace and comfort are with Congressman Major Owens' family at this difficult time."