Haunted Halloween theater picks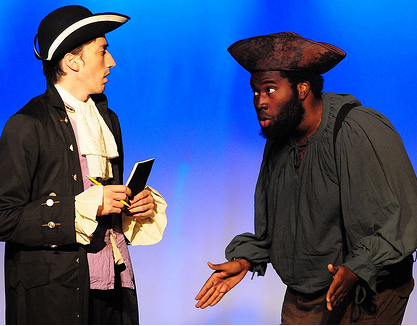 If you haven't already gotten that costume and stocked up on your candy, then you'd better head to the store, because Halloween is right around the corner. While downtown will be flooded with floats and costumed revelers on Oct. 31 as part of the annual Village Halloween Parade (www.halloween-nyc.com), you'd be remiss to forget about all the other spooky special surprises this city has to offer in the next week. Whether they're full of phantoms, mummies, ghosts or even pumpkin pie, these Halloween-themed theatrical offerings boast a couple of tricks and plenty of treats for theatergoers.
"Phantom of the Opera" (shows almost daily)
This beautifully gothic musical has been such a Broadway staple for a reason—the mysterious and intriguing phantom, the exemplary score, the beautiful set and costumes. If you haven't already seen this Broadway classic, then what better time to see a phantom than on All Hallows Eve?
"Sleep No More" (multiple night shows daily)
Film noir meets Shakespeare to form this impressive, fun bit of immersive theater in Punchdrunk's "Sleep No More," an all-encompassing theatrical experience that lets you experience "Macbeth" firsthand. A story of witches, murder, ghosts and revenge, "Macbeth" is a perfect, spooky tale for Shakespeare fans and theatergoers alike.
"Professor von Awesome's Ghost Hunting Safari" (Oct. 25-26)
Awesome is in the name, so you know it has to be good. This campy but fun theatrical adventure includes music, puppetry, burlesque and a hint of necromancy. If you're looking for a good ghost hunt, Professor von Awesome is definitely the one to see.
"The Pumpkin Pie Show: Boogedy Boo!" (Oct. 24-26)
Clay McLeod Chapman knows how to tell a story that will have you screaming like a banshee—with laughter, that is. This hilarious storyteller tackles stories about postpartum depression, possessed hair extensions, haunted vinyl and a bit of inappropriate self-loving in the middle of a showing of "Phantom of the Opera."
"Lumpy Bumpy Pumpkin" (Oct. 24, Oct. 28-31)
Bring your kids to this show, where they can learn a tale about acceptance and a very special pumpkin. A talented storyteller and guitarist bring this fictional pumpkin patch to life, and your kids will love the exciting Halloween sing-along.
"The Curse of the Mummy" (Oct. 30-31)
If you thought "Sleep No More" was all the McKittrick Hotel would be offering this Halloween season, then you've got another thing coming—and they're not keeping this surprise under wraps. Prepare for two nights of costumes, drinks, live music, guest DJs and other entertainment pleasures in celebration of the film "The Curse of the Mummy." And that's not all—the evening will also include an Egyptian-inspired dining affair by Chef R.L. King.
"Hollow" (Saturdays at 5 p.m.)
Revisit Washington Irving's "The Legend of Sleepy Hollow" in this musical, packed with so much romance, secrets and mystery that it may just cause you to lose your head … literally.
"Matthew Bourne's Sleeping Beauty" (playing daily until Nov. 3)
Witches, magic spells, sleeping princesses—sure, you know the story, but you've never seen it like this. This gothic romance teems with elegance, fantasy and style and brings Charles Perrault's classic tale to life with the fanciful choreography of Matthew Bourne and legendary music of Pyotr Tchaikovsky.