Misty Copeland is back!
Charmaine Patricia Warren | 10/24/2013, 5:01 p.m.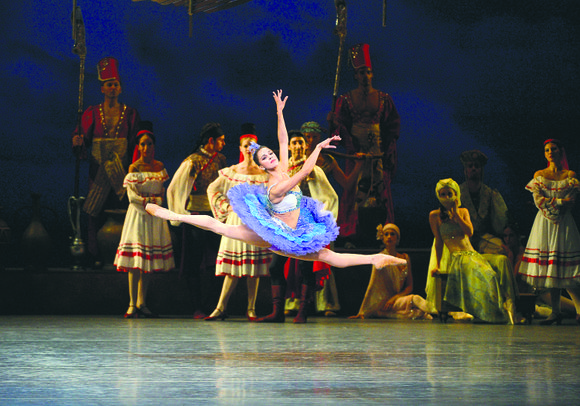 You will be featured in works by Twyla Tharp ("Bach Partita") and Mark Morris ("Gong"). What is like to work with them?
I first met Tharp when I was 16, preparing to perform [Tharp's] "Push Comes to Shove" in ABT's Summer Intensive. I've worked on many of her ballets, as well as having works of hers created on me. Her movement comes easily, so it's fun to work with her in the revival of "Bach Partita." She's completely candid and honest with her dancers and with what she wants out of you. I adore her.
Morris' "Gong" was the first principal role I ever danced at ABT. I think I was 21 then. I will be dancing that role again after not having done it for so many years. I haven't seen Mark since then, but he will be overseeing our rehearsal. He is a riot; [he] terrified me when I was new and young to the company. He's a big personality, but hilarious.
As a ballerina, what is it like dancing works by modern choreographers?
Yes, I am first and foremost a ballerina. I just happen to have a natural ability for all types of movement. This has been a blessing as a dancer in a classical ballet company. Few have that natural instinct after 20-plus years of ballet training, so I embrace works like Twyla's.
Do you find yourself comparing your approach to modern works differently than ballet works?
It's very different. When given the opportunity to do leading classical roles, I approach it with a more focused and finessed eye. It's rare that I'm given the privilege; so much more is at stake. It's my chance to prove myself for all the Black women who were never given the opportunity. It's a heavy weight that I take on proudly.
Nov. 1 is a special evening, not only because you will performing, but also because Project Plié will be launched.
This project is something the ballet world has needed forever. To be able to bring my experiences on board and be completely a part of it means everything to me. The night represents change. Diversity!
See Copeland on Oct. 30 in "Theme and Variations," Nov. 1 in "Gong," Nov. 3 in "Bach Partita," Nov. 6 in "Gong" and "Theme and Variations" and Nov. 9 (matinee) in "Bach Partita."
For more information, visit www.abt.org.