Rep. Major R. Owens passes at 77
Herb Boyd | 10/24/2013, 10:47 a.m.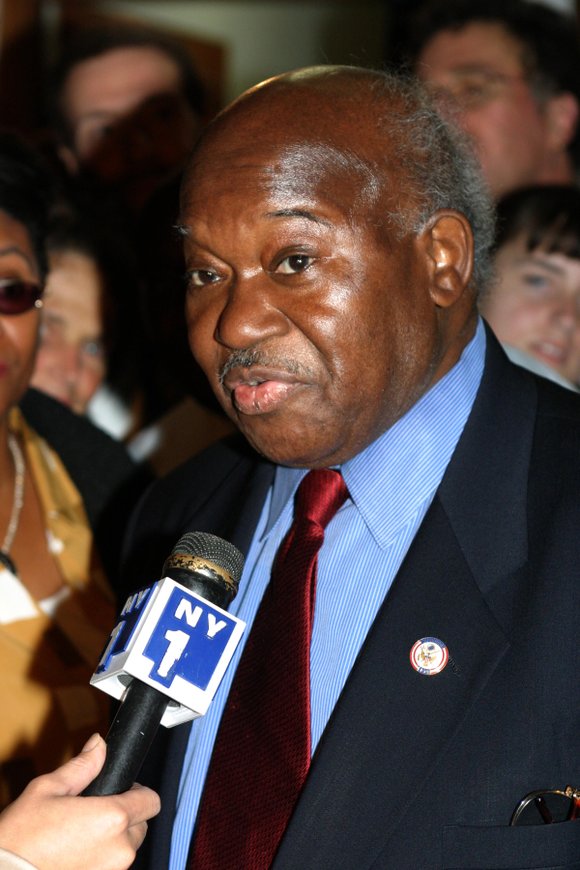 "Major Owens was a man of significance and a man of consequence," a saddened Council Member Al Vann told the Amsterdam News, as news broke of the Monday night passing of former Rep. Major R. Owens on Oct. 21.
"He was a strong advocate for justice, equality and empowerment for our people. He was an extraordinary legislator. He was a serious thinker, well read, and he will definitely be missed by me and many others in the state."
In the august of his days, Owens was fond of delivering his praise and critiques via rapping, thereby earning the sobriquet of the "Rappin' Rep." But as his constituents in Brooklyn and his colleagues in the Congressional Black Caucus knew, Owens was an able lawmaker and a man of unimpeachable integrity. Owens, 77, died Monday at NYU Langone Medical Center, apparently of cardiac arrest brought on by renal failure and diabetes, according to his son Chris.
From 1983 to 2007, Owens represented Brooklyn's 11th District in the House of Representatives. Among the laws he wrote or helped to pass was the Americans with Disabilities Act in 1990. Only Rep. Adam Clayton Powell Jr., among New York's representatives to Congress, sponsored or passed more legislation than Owens. His tenure in Congress was bracketed by Shirley Chisholm, whom he replaced, and Yvette Clark, who replaced him upon his retirement.
Before being elected to the House, Owens served more than seven years in the New York state Senate.
Owens was one of those Brooklyn fixtures who made his mark by his mere presence. Condolences and calls to the AmNews office came thick and fast, with people from all walks of life asking for confirmation.
"Congressman Major Owens was a true Brooklyn champion who served the public with distinction for decades," said Ken Thompson, Democratic nominee for Brooklyn district attorney. "As a congressman, community leader and tireless social justice advocate, he always put Brooklyn first and never forgot where he came from. My thoughts and prayers are with the Owens family in this difficult time. He will be deeply missed."
"[Today], New York lost a legend," said Council Member Letitia James. "Congressman Owens' commitment to working people in our city was remarkable, as were his accomplishments on behalf of his diverse district in Brooklyn. His legacy—from helping to develop social assistance programs under Mayor John Lindsay, to helping to pass the Americans with Disabilities Act in Congress—lives on. Even after leaving the House of Representatives, Owens never stopped serving—teaching as a professor at Medgar Evers College.
"Our city and our country have been changed for the better because of Congressman Owens' service. May he rest in peace."
April R. Silver, founder and resident of Akila Worksongs Inc., called the AmNews to ask if the news was true. "I'm so saddened to learn of Major Owens' passing on Monday," she said. "As a former educator, as a proud Brooklynite, as an activist and as someone who had the honor of working with him closely as a member of the Medgar Evers College Coalition, I'm clear that we just lost a giant. Every encounter with Major was characterized by his passionate and steadfast struggle for justice. My prayers are up for his entire family. May he rest in peace."