Rep. Major R. Owens passes at 77
Herb Boyd | 10/24/2013, 10:47 a.m.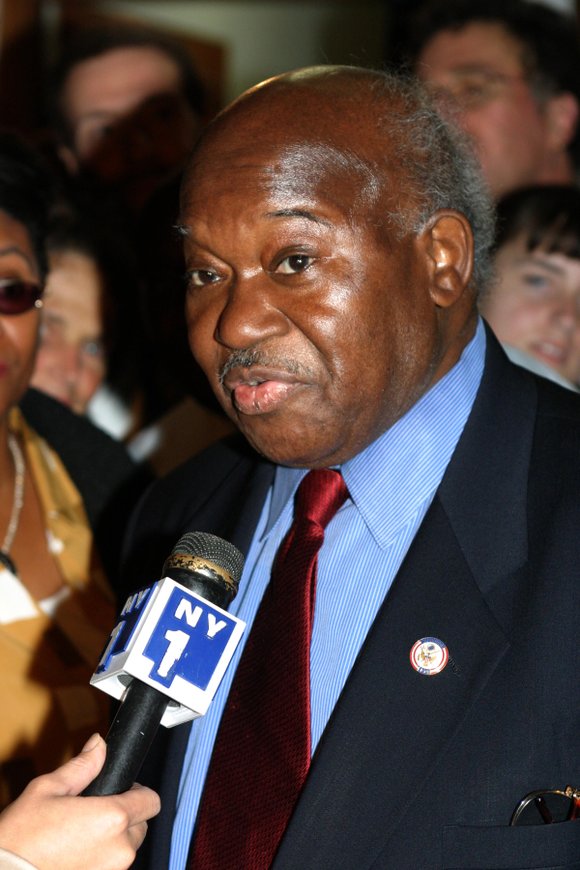 Born on June 28, 1936, in Collierville, Tenn., he was a proud alumnus of Morehouse College and Atlanta University, where he earned a master's degree in library science. He was a librarian before entering the political arena and the only person in the history of Congress with such a background. And despite his passionate involvement in politics, it did not eradicate his love for books. In 2011, he published his book "The Peacock Elite," which was an unsparing assessment of Black political leadership as well as a proscription for positive change. The politicians and civic leaders in his book are classified as "peacocks" or "workhorses," and nothing is more telling than his critique of the CBC, which, in his estimation, failed to respond to the expansive poverty in the nation.
Another example of his love for books and his adoration of the students he mentored after leaving Congress occurred in 2010, when he purchased more than $500 worth of books to freely distribute to his students. It was a testament to his generosity and devotion to the young people he tutored.
"Since his retirement from Congress in 2007, Congressman Owens was a Distinguished Visiting Scholar at the John W. Kluge Center in the Library of Congress," an email from this family added. "At his death, Owens was a Distinguished Lecturer and a member of the Du Bois Bunche Center for Public Policy at Medgar Evers College, City University of New York. Owens served as president of the Central Brooklyn Martin Luther King Commission, and as a member of the board of Brooklyn for Peace and the legal nonprofit organization Advocates for Justice, as well as an advisory board member of the Brooklyn Center for Independence of the Disabled.
"Over the years," the statement continued, "Major Owens has remained connected to his first profession as a librarian. He is considered a scholar and national expert on library education and information development. He has taught at Columbia University's renowned library school, and was a featured speaker at the White House Conference on Libraries in 1979 and 1990. In 1996, Major Owens was awarded a Lifetime Membership in the American Library Association."
To list his numerous awards is an endless task, but it would be remiss not to mention the honorary doctorate he received from Atlanta University in 1988. It should also be noted that he was also the author of three other books and a play and was a regular online contributor to Huffington Post and to other outlets.
He married Maria A. Owens in 1989; each had children from a previous marriage. The blended family of Major and Maria Owens included five children, Chris, Geoffrey, Millard, Carlos and Cecilia, and eight grandchildren. Owens was previously married to Ethel Werfel Owens. They were married in 1956 and divorced in 1985. Major Owens is also survived by four siblings, Ezekiel Owens Jr., Edna Owens, Mack Owens and Bobby Owens.
Expressing his condolences and deepest sympathy to Maria, the sons and the family, Vann added, "He made a tremendous mark in Congress. He was the 'education congressman.' He made changes in how Title 1 was funded, which put million and millions of dollars into Black and underserved communities. He served his constituency with dignity and integrity. He will be sorely missed."
Cards may be sent to the Owens Family, 135 Eastern Parkway, Brooklyn, N.Y., 11238. The family is requesting that all calls be made to 518-556-1052 and emails be sent to family@remembermajor.com. In lieu of flowers, please make donations to the Central Brooklyn Martin Luther King Commission, a 501-c-3 nonprofit organization.
Funeral services for Rep. Major Owens will be held on Monday, Oct. 28 at the First Baptist Church of Crown Heights, located at 450 Eastern Parkway in Brooklyn. The viewing will be held at 9:30 a.m. and the the service will start at 10:30 a.m. Rep. John Williams will be the featured speaker.