Talking SCHOP! From a flat top?! Wow!
10/24/2013, 4:22 p.m.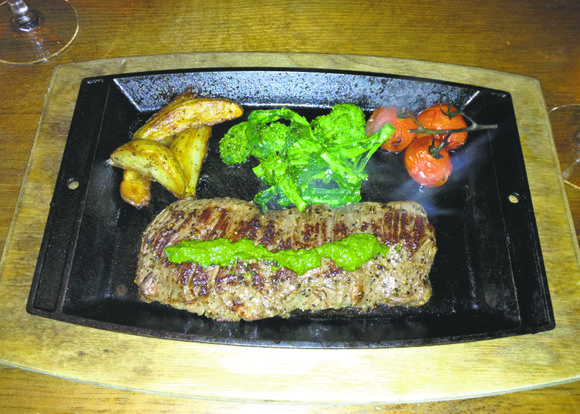 There is something to be said about a seemingly simple menu. A menu that speaks volumes with only a short list of ingredients means someone is thinking and thinking hard. It could be anything from a simple salad to a complex entree. Its success is all in the preparation, the cooking and, ultimately, the taste.
The owners of Jin, a ramen shop located on 125th and Broadway, have upped the profile of the mundane diner flat top griddle. It is not just for flapjacks and burgers anymore. At their new, aptly named eatery Flat Top (@flattopnyc, 1241 Amsterdam Ave., corner of 121st Street, 646-820-7735, www.flattopnyc.com), they have created some masterpieces that have made a believer out of me.
Let's start with my first visit a couple weeks back. A friend invited a group of people, mostly foodies, to converge on Flat Top. We started as four at one of the high tables, but ended as six at the angled communal table in the front. We needed space for all that we ordered.
I must begin with the complimentary warm bread and olive tapenade, ripe with lemon zest, garlic and fruity olive oil. We had to stop ourselves after the second basket and just in time to enjoy our amazing small plates: burrata caprese salad, poached egg Caesar salad, roasted bone marrow and a gift from the kitchen of mushroom risotto. Again, simple ingredients done right with a little flair can surprise and satisfy the most discerning guests. It's the burrata (the fast and loose cousin of buffalo mozzarella with ricotta inside) in the caprese, the panko-crusted soft poached egg with the runny yolk of the Caesar salad, the parmesan foam of the umami mushroom risotto and it's all of the condiments like caramelized sweet onion jam of the roasted bone marrow. ROASTED BONE MARROW IN HARLEM!!!
Our table soon began to reminisce fondly about our recent small plates and how good it would be to repeat, but the entrees would soon be upon us. We were eating family style so we could continue the sharing. Our menu: Flat Top burger, ginger crusted striped bass, Maple Leaf Farm (@MapleLeafFarm) duck breast, and Creekstone (@CreekstoneFarms) skirt steak a la Flat Top.
I enjoyed all of our plates. The eight-ounce organic Angus blend was cooked perfectly and served on a truffle brioche bun with Parmesan russet wedges. The well-seasoned, medium cooked skirt steak was served with roasted vegetables and chimichurri sauce—a steak lover's dream! Also, it was a perfect cook on the duck breast with great components, though I would love to see more cohesion with the dish.
The striped bass was a complex mash of flavors with sweet corn and mushrooms in a peanut miso vinaigrette. I too was dubious about this dish until the owner suggested it over my original choice of mentaiko and shiso udon pasta, but it was subtle and balanced and truly delicious. I would have my first choice, last week, at a repeat visit.