Barneys Bias leading to 'shop-and-frisk'
10/31/2013, 11:36 a.m.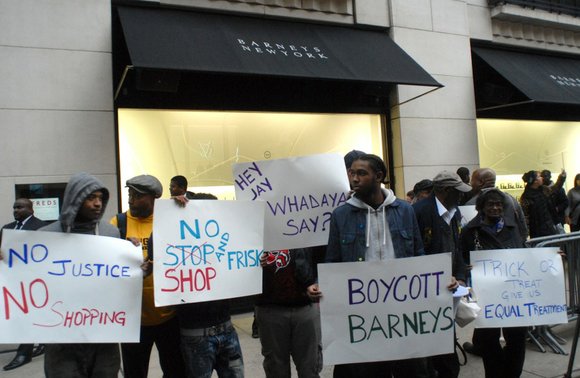 The issue of "shopping while Black" is back in the spotlight as allegations of Black shoppers at high-end retailers being stopped and detained by police have surfaced.
Community outrage over the alleged discrimination was displayed on Wednesday when a group of Black protesters picketed Barneys. The protest was led by the Rev. Clinton Miller of Brooklyn's Brown Memorial Baptist Church.
"We are standing in solidarity with the two victims and for Blacks and Latinos who throughout the years have been treated differently than whites at Barneys," Miller told the AmNews as he prepared to go out to the picket on Wednesday afternoon. "Until they adjust their policy and procedure when it comes to African-American and Latino customers, we are calling for a boycott. Barneys is not claiming responsibility, and there may be an unofficial relationship between personnel and the NYPD."
In the trend, now being labeled "shop-and-frisk," Black shoppers who have purchased expensive items are being questioned and taken in by police. The controversy started when reports came out about 19-year-old Trayon Christian being stopped and questioned by NYPD officers outside of Barneys after he bought at $350 belt.
Christian, a college student, alleged that he bought a designer belt before he was stopped by undercover officers. He claims officers said they were tipped off by a Barneys sales clerk, who accused Christian of using a card that did not belong to him.
He alleges that officers asked him how he could afford such an expensive belt. Christian showed the officers the receipt, his ID and the card he used to make the purchase. He was taken in and held and later released. He has since taken the belt back for a refund. He has also filed a lawsuit against Barneys.
"His only crime was being young and Black," Christian's attorney, Michael Palillo, said in one report.
The following day, another allegation about discriminatory practices at Barneys surfaced. Kayla Phillips, a 21-year-old Black woman, claimed after she bought a $2,500 Céline bag from the luxury store in February before she was stopped by officers three blocks from the store.
Again, officers questioned her about how she was able to purchase the bag and why she was in Manhattan. Officers let her go after Phillips showed them the receipt, the debit card she used and her ID. She has filed a lawsuit against Barneys and the NYPD.
Recently, two other Black men, one of them being Black actor Robert Brown of HBO's "Treme," are accusing Macy's of racial profiling. Brown claims he bought a $1,350 Movado watch before he was stopped by NYPD officers. He was told his ID was fake and that he could not afford the watch. Brown was detained for an hour before being released.
Finally, 56-year-old Art Palmer alleges he was questioned by the police three blocks away from Macy's after purchasing $320 worth of dress shirts and ties at the store in April. He said officers told him they stopped him because they could no longer see him on security cameras. Both men are suing Macy's.