Layoffs at LICH halted … for now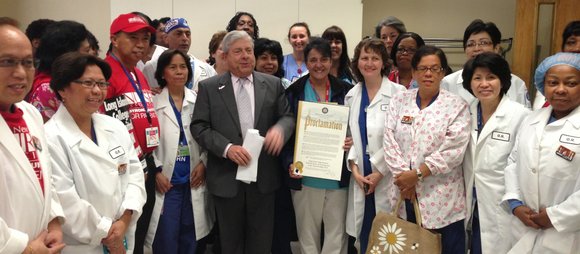 SUNY Downstate halted plans to lay off 500 Long Island College Hospital (LICH) employees on Monday, signaling a temporary victory for workers fighting to keep the Cobble Hill-based institution from closing.
The New York State Nurses Association (NYSNA) took to their Facebook page to praise the latest development. "We've won another victory to keep LICH Open for Care!" read the NYSNA's statement. "Threatened layoffs of hundreds at University Hospital of Brooklyn at LICH came to a halt today, less than two days after SUNY mandated the firings. SUNY and StaffCo, which operates the hospital, have agreed that the major layoffs scheduled at LICH tomorrow will not take place. At minimum, the layoffs are delayed for several weeks."
During a rally outside of LICH on Monday before the announcement, Public Advocate and New York City mayoral candidate Bill de Blasio said that he'd continue the fight to keep LICH open as long as he could.
"This is the go-to place for health care," said de Blasio, joined by members of NYSNA and SEIU and state Sen. Daniel Squadron. "This is the go-to emergency room— It's literally a lifeline." He also called the layoff notices "a clear violation" of the judge's order from September, and said they were a backdoor way to shut the hospital down. He added that it was "more than ironic" that the firings would go into effect on the first anniversary of Hurricane Sandy, "a time when this community needed LICH the most."
In a separately released statement, de Blasio said, "This hospital is still open for care because this community takes nothing for granted. These layoffs were another backdoor attempt at closing LICH, and SUNY presented them as a done deal. We knew better." The democratic mayoral nominee helped win a restraining order against SUNY in July to keep LICH open. That was followed by an August ruling in which a judge ordered SUNY to restore services.
During a recent hearing in downtown Brooklyn, SUNY Downstate attorneys said that state Supreme Court Justice Carolyn Demarest didn't have a basis to reconsider her initial ruling to transfer LICH to SUNY Downstate.
"This transaction has been consummated and can't be undone," argued SUNY attorney David Dunn, adding, "You can't unscramble the omelet."
But de Blasio and hospital employees hope to do just that.