Morales/Shakur Community Center replaced with corporate career center
10/31/2013, 4:47 p.m.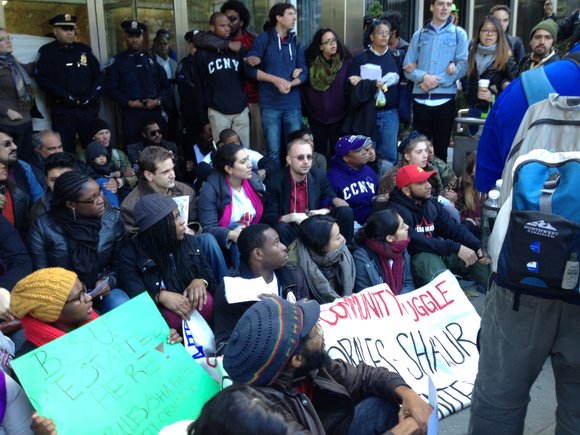 After more than 20 years of struggle to create and maintain the center as a space for City College students, the Guillermo Morales/Assata Shakur Community & Student Center at City College was taken by City College on Sunday, Oct 20. In just one week, all community and student possessions were removed, and the process to convert the space into a corporate arm of the college's career center has begun.
"We've [the student affairs office] been trying to incur a number of corporate vendors … we're trying to increase the number of these corporate entities that our students can apply to," said Juana Reina, vice president of student affairs at City College, giving General Electric as an example.
Reina explained that the space they have already is embarrassing, is not large enough or quiet enough to bring in "exuberant" people. She said that the career center had been asking for a new space for over a year. "When they said we could have the space, I jumped for it," she said. "But the college, in hindsight, really recognizes that this wasn't done in the ideal way."
Fingers are being pointed in many directions as to who made the call to reallocate the center without notifying students or community members beforehand. Reina points to the president, who granted the space for the career center to the student affairs office, while Vice President of Communications and Marketing Deidra Hill points to the board of trustees.
Regardless, according to some administration officials who had no knowledge of the work being conducted in the center, the space was repurposed to house this new career center expansion without the acknowledgement of the students or officials.
"A room in the North Academic Center (NAC) has been reallocated for the expansion of the City College Careers and Professional Development Institute to provide additional services to students seeking assistance in transitioning from college to the workplace," reads a press release published by the president's office.
Students and community members have held three protests against the reallocation of the community center.
"We are not only here to support the students but also to support the legacy of revolutionary struggle," said Shaka Shakur, a member of the People's Survival Program (PSP), which had its offices in the center, at Thursday's protest. Shepard McDaniel, an organizing member of PSP, agreed and said, "Again, it's really important to understand that it's an attack on the Black liberation movement. It's not just the center and what it represents."
The Morales/Shakur Center has been the object of what some call a "revolutionary struggle" since its inception.
City Council Member and Chairman of the Council's Higher Education Committee Ydanis Rodriguez was one of the City College students who fought for the creation of the center in 1989. He joined student and community protests following their eviction from the center and said, "I want CUNY to understand that for 24 years 3201 has served as a student community center … Today we need to keep the same center as a symbol of the struggle for social justice, and I hope that we get the support as we did in 1989."