Morales/Shakur Community Center replaced with corporate career center
10/31/2013, 4:47 p.m.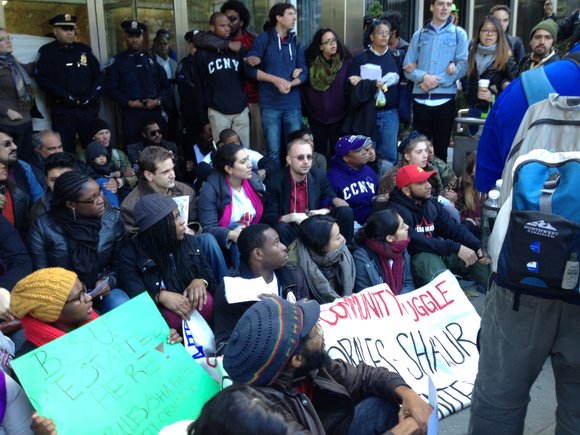 The center faced many criticisms for its name, which is for two City College alumni. Once before, students and community members were shut out of the space over a dispute over its name, but after a legal battle, the center retained its name. There were 24 student organizations housed in the Morales/Shakur Center when it was shut down and reallocated without notification or forewarning.
"I am the president of the Black Student Union. We're on campus and promote activism and promote the betterment of our community. We are chartered by the school, and we are also chartered by the Morales/Shakur center because we began there."
"Although we can meet in other facilities on campus, we have no materials because they were all stored in our room."
Reina, the person students would typically go to make complaints about the school, is also overseeing the center that has taken the place of the Morales/Shakur Center. She said there is no formal process for students involved to make complaints, but that she is working hard to help students affected by the move.
Reina said she is heading up the procurement process for students and community members to regain their possessions, which have been put into 24 boxes and moved to a storage facility. She has asked representatives of some of the organizations in the center for a list of property so that a procurement person can retrieve these items from storage. She also asked for a short list of people who had property inside and guaranteed that the process would be expedited as soon as these lists are acquired.
But, likening the center to a home in foreclosure, students and community members are saying that their regaining their possessions is not enough.
"You're talking about eminent domain. That's what happened. They are the power. They come in and take that property and do what they want without any kind of consultation with you. It's completely unfair. It's unjust, and some kind of reparations, some kind of conversation seems to be in order," said Herb Boyd, faculty advisor to the Morales/Shakur Center, who says he was not notified before the appropriation of the space.
Administration officials say that after taking the space, they began to learn what was going on within the center and realized there is a need for community space. Three days ago, the university began talks to create a new urban center that will be spaced outside the campus for the groups dislocated by the takeover. The new urban center has yet to be named.